Taking advantage of the best of the season is always a good idea!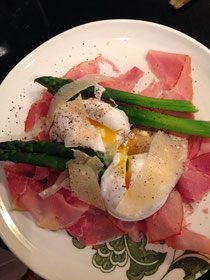 As a base, toast an English Muffin, or whatever toast you have handy. I am particularly fond of popovers.  Butter if you wish - and I do!  Arrange thinly sliced Westphalian Ham (or Prosciutto) on the toast.
Steam asparagus.  (It's nice to peel the stalks a bit.)
Soft poach 2 eggs per serving.
Shave Parmesan cheese on top.
A fresh grating of pepper is nice.  No salt required since the ham and cheese are salty enough.
Although Hollandaise is never unwelcome, the egg yolks are sufficient sauce, and the flavours of each of the elements come through perfectly with no added embellishment!
This whole recipe takes about five minutes to create if you're on your toes!
Enjoy!