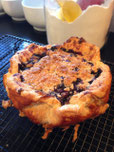 Use store-bought puff pastry to make this quick and easy Galette!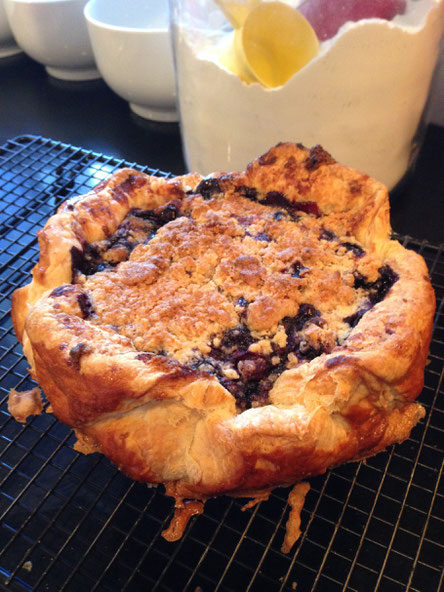 This looks spectatular and tastes great!  And it's easier than piecrust!
Oven to 425
Unroll store-bought puff pastry.  (I use President's Choice.)  You buy it frozen, so you need to thaw it.  In refrigerator if there's time because you don't want it too soft.
When you unroll it, lift it from the parchment paper it is on and dust a bit of flour under it.
Add whatever filling you want to the center of the pastry.  (I used blueberries mixed with 1/2 jar of blueberry jam, a tablespoon of cornstarch, a tablespoon of sugar and a sprinkle of lemon juice. A few bits of butter)  Any filling is fine, but it should be not too juicy.
Lift corners of the pastry up and fold back.  I like to mix a bit of Bisquick with some room temperature butter and some sugar for the center topping.
Tuck the corners in so that juice does'nt run out.
Brush with egg.
Slide onto baking stone or cookie sheet if you don't have a stone in the oven.
Bake until it looks golden and the filling is bubbly.