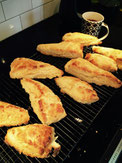 No matter how you pronounce them, scones are a delicious treat.  Best not to be enjoyed with every cup of tea, however!  
INGREDIENTS

YIELD 12-16 scones
2 1⁄2cups  all-purpose flour




1 generous tablespoon  baking powder




1 teaspoon  salt




15 tablespoons cold unsalted butter, cut up




1⁄3cup  granulated sugar 




2⁄3cup  milk



Heat oven to 425°F (220 Celsius).
Put flour, baking powder and salt into a large bowl (I use a food processor.  Works like a charm.  Just don't overdo it!).  Stir mix well Add butter and cut in with a pastry blender or rub in with your fingers, (or a few pulses with your food processor) until the mixture looks like fine granules.  




Add sugar; toss to mix. (pulse)




Add milk and stir with a fork until dough forms. (pulse, pulse)




Form dough into a ball and turn smooth side up.




Pat or roll into a 6 inch circle.  Many people recommend popping them into the freezer for awhile to firm them up at this point.  




Cut each circle into 6 or 8 wedges.




Place wedges on a cookie sheet on parchment paper.  

Note:

I have a pizza stone in my oven most of the time so I just heat that up and slide the scones on the parchment paper right onto that with a pizza peel (paddle).  Works slick and I have no washing up!




Sprinkle desired amount of cinnamon (if using) and sugar on each scone.  I like to use maple sugar crumbles, but you may not have those handy.  A turbanado would be good, or just sugar.




Bake about 14 minutes, or until medium brown on top.



These are crazy rich, but so good!  They freeze well.  Just take one out of the freezer bag, defrost in your microwave, and reheat in your toaster oven.  Makes a lovely breakfast when you want to treat yourself!