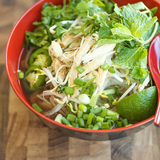 A reflection on taking time out of a busy day of irritations and stresses to enjoy the simple task of preparing dinner.
Remember how excited you were when you got your job?  What a relief! Finally the end of that long, dark job search path so riddled with resumes, anxiety, interviews, rejection and financial woes. A job!  A pay cheque!
You finally got married!  The end of the long road of dating, rejecting, getting rejected, the wondering when or whether the quest will ever end! Happy at last!
Hooray! You got the house!  Searching! Financing!  But at last, the day has come to move in!  Could you possibly be happier?
Baby!  After long months of maybe and then finally pregnancy so fraught with anxiety and discomfort. Finally the wee darling has arrived, safe and sound and "as full of promise as moonlight on a martini". 
Oh man!  I need a holiday!  I need to relax!  The job is an endless source of stress, the spouse is getting on my nerves, the house is one unexpected expense after the other, and the kids are driving me crazy! That adorable puppy?  Barks at a squirrel the moment I slump into a restorative power nap!
And what on earth is for dinner?
All jobs have rough spots. All spouses are a pain in the neck bytimes.  A house needs attention every time you turn around. All kids are annoying much of the time except those moments when they are heartrendingly adorable.  The dog just needs a long walk. And probably so do you. 
You know I'm going to say that the problem is you. Well it is. You don't need a holiday. You need a swift kick in the attitude. No one wants to put up with your perpetual whining.  Except the dog. Well, maybe even the dog. 
But dinner? We can talk about dinner. 
Before you suspect me of going all Martha Stewart on you, I am actually suggesting that you give yourself a little wiggle room. Not every dinner will be magazine worthy. The kids may turn up their darling little noses. (They truly will not die if they are not force fed vegetables every single day).  You do not have to provide dessert.
Blood pressure going down already?
The rest is all in the moment. After you kick that martyrdom thing you have going on to the curb. Preparing dinner should be Zen. The colors, the crunch, the smells wafting about, and, of course, the taste.  Relax. Relaxation is not found on distant beaches. It's in your head. It's a break from the clutter that's banging around in there. Think about something else. Think about the beautiful, bountiful, colorful chaos of edible spring at your fingertips. So much of it is delicious even raw, so don't you be thinking of overcooking. Slice. Carefully. Beautifully. Spiralize. Take the time. Think about colour and texture. Think about what you're doing. Only. It's OK. Let it go. Appreciate the moment. 
Oh, the moment will pass.  Your spouse will fret about the mess in the kitchen. The kids will complain that they'd rather have chicken fingers. (Really? That's a thing?).   Every annoyance at work is still lurking, ready to disrupt your sleep. 
But that was great, wasn't it?  That stillness?  The creativity. The feeling of being in tune with the season, the silence, the music of the spheres. Yes. Let's do it again. Maybe tomorrow. 
CHEATER PHO (ASIAN NOODLE SOUP) With thanks to damndelicious.net
YIELD: 4 SERVINGS PREP TIME: 15 MINUTES COOK TIME: 15 MINUTES TOTAL TIME: 30 MINUTES
With this simplified version, you can have homemade pho on your table in 30 min or less. It doesn't get any easier!
8 ounces dried rice noodles
2 tablespoons olive oil, divided
1 pound boneless, skinless chicken thighs, cut into 1-inch chunks
Kosher salt and freshly ground black pepper
1 tablespoon freshly grated ginger
2 tablespoon hoisin sauce
1 onion, thinly sliced – green onions are pretty here
1/2 cup fresh cilantro leaves if you like them.  Or flat-leaf parsley if you don't 
1/2 cup fresh mint leaves
1 jalapeno, thinly sliced
In a large pot of water, cook rice noodles according to package instructions; drain well and set aside.
Heat 1 tablespoon olive oil in a large stockpot or Dutch oven over medium heat. Season chicken with salt and pepper, to taste. Add chicken to the stockpot and cook until golden, about 2-3 minutes; set aside.
Add remaining 1 tablespoon oil to the stockpot. Add garlic and ginger, and cook, stirring frequently, until fragrant, about 1-2 minutes.
Whisk in chicken stock, hoisin sauce and fish sauce. Bring to a boil; reduce heat and simmer for 10 minutes.
Serve immediately with rice noodles and chicken, garnished with onion, bean sprouts, cilantro, mint, jalapeno and limes, if desired.
What's that? Is that your spouse? Smiling? At you? Exhale!