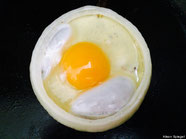 Baking eggs for a crowd! This is a nifty idea for serving a lot of fried eggs without having to stand by the stove while your guests enjoy breakfast!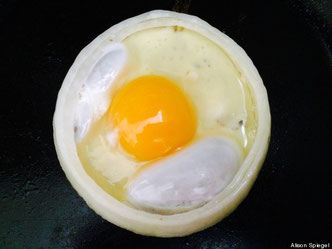 Question: Why I was there always a writing desk in upscale English guest rooms?  
To write letters? To use as a make-up table? To set up a mini-bar?  None of the above!  The answer is that "A good guest always 'writes letters' until noon". That is to say that the guest stays out of Host's hair so that the Host has time to get things done that need doing. Finish clean up from the night before, unload the dishwasher, plan and prep the day's meals. Maybe pop out for a few groceries, pick up the mail, pay the bills. 
But that was then. Now when we have a house full of friends and family, no matter how helpful, Host must be a master of prestidigitation.  He wants meals to be fabulous, delicious and dazzling!  Guests feel uncomfortable, however, if Host is visibly stressed.  Therefore, Host is forever looking for magic tricks that will pull great meals out of a hat just like that. 
We all know the "wife saver" – a quite tasty, and decidedly North American version of the Croque Monsieur that can be assembled after the guests have, at last,  trotted off to bed.  When pulled out of the fridge and popped into  the oven by bleary-eyed Host next morning, the result is perfect. A tasty dish created with no apparent effort!  
Here's the one from Best of Bridge (bestofbridge.com) to refresh your memory:
Ingredients
16 slices white bread, crusts removed
16 slices Canadian back bacon or ham
16 slices sharp cheddar cheese
6 eggs
1/2 tsp. pepper 2 mL
1/2-1 tsp. dry mustard 2-5 mL
1/4 cup minced onion 60 mL
1/4 cup finely chopped green pepper 60mL
1-2 tsp. Worcestershire sauce 5-10 mL
3 cups milk 750 mL
dash Tabasco
1/2 cup butter 125 mL
Special K or crushed Corn Flakes
Instructions
1. Set 8 pieces of bread into a 9″ x 13″  buttered, glass baking dish.
2. Cover bread with slices of back bacon. Lay slices of cheddar cheese on top of bacon and then cover with remaining slices of bread to make it like a sandwich.
3. In a bowl, beat eggs and pepper. To the egg mixture add dry mustard, onion, green pepper, Worcestershire sauce, milk and Tabasco. Pour over the sandwiches, cover and let stand in fridge overnight.
4. In the morning, melt butter, pour over top. Cover with Special K or crushed Corn Flakes.
5. Bake, uncovered, 1 hour at 350 deg.F.  Let sit 10 minutes before serving. 
But sometimes Host wants to pull off the holy grail of breakfast tricks: Bacon and eggs for a crowd! (Ok. Eggs Benedict is the true holy grail, but that's just showing off).
Oh we've all done bacon and eggs for a crowd, but it generally entails Host standing at the stove cooking up eggs while the guests are enjoying breakfast, though feeling a bit guilty and exhorting Host to "Come sit down" all the while knowing that this is impossible if the eggs are to keep coming. Host finally joins the group after everyone has eaten  Of course, they are, by then, wondering if Host has thought to put on another pot of coffee. 
But then, I happened upon a blog!  Fried eggs for a crowd!  By golly!  (Here's the link: http://www.thekitchn.com/how-to-make-a-big-batch-of-fried-eggs-at-once-240324)
"Bake a Big Batch of "Fried" Eggs
• First, coat a rimmed baking sheet with non-stick spray, butter, or oil — and be generous since the fat will prevent sticking and also help fry the eggs.
• Next, preheat the baking sheet in a 425°F oven for 15 minutes.
• While the pan is preheating, you can crack the eggs into a few ramekins or cups, which will help you get the eggs onto the sheet pan faster and result in more even cooking. This step is completely optional, as it does create more dishes for washing post-breakfast.
• When the pan is preheated, carefully pour (or crack) the eggs directly onto the baking sheet. Work from the middle of the baking sheet out for more even cooking and keep the baking sheet on the oven's rack so that it doesn't lose much of its heat.
• Sprinkle the eggs with salt and pepper before returning the eggs to the oven.
• Bake the eggs for five minutes for runny yolks or all the way to eight minutes for hard-cooked eggs. Use a thin spatula to remove the eggs from the pan.
Want Picture-Perfect Eggs?
Coat a few Mason jar rings (or ring molds, if you've got them) with nonstick spray and preheat them along with the baking sheet. Then pour the cracked eggs into the lids for baking."
If you really want to save time and effort, lay out your bacon on the cookie sheet, and bake it up to perfection. Remove bacon, pour off most of the bacon grease, and use that pan for the egg trick. 
Oh and how about sliding a metal cooling rack full of bread onto another rung of the oven to make the toast while you're at it.  Stovetop?  You have time to fry up some mushrooms and tomatoes to go full-on English!  
Serve up and sit down to enjoy a very nearly effortless breakfast with your guests. 
But don't forget that second pot of coffee!
Now, what's for lunch…?