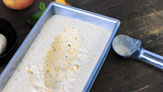 This is a recipe for Peach Basil ice cream which will probably not be a favourite with the kids.  Pistachio is delicious. Maybe chocolate to start.... Just saying.  
Back in the day, the moms did the things.  They had the time to do the things because, by some unwritten decree, when a woman married, she quit her job and devoted her life to her home and family. Sounds idyllic?  Think again.  She got married, quit her job and entered into the unofficial but deadly earnest Housewife Olympics.  Who hosted the best birthday parties, made the best bread, the flakiest pastries, the straightest stitches, the daintiest doilies, the best "covered dish" at the church pot luck, had the cleanest house, the whitest sheets, the most adorable children shined up and decked out in their Sunday best, come Sunday?  The pressure was intense, and unrelenting. In these unofficial Olympics, there were no medals, gold, silver or bronze, but there was definitely winning and losing.  
Doping scandals, you wonder?  Well, not as such…
But there was an equivalent, a shortbread shortcut  whispered about behind gloved hands, in hushed tones.  Bisquick. Apparently this was the secret behind "Her" spectacularly crisp, yet light and tender Strawberry Shortcake.  (2 1/3 cups Bisquick, ½ cup milk, 3 tablespoons sugar, 3 tablespoons butter, melted.  Bake 10-12 minutes at 425. Makes 6 shortcakes. Google it).   Once the requisite aspersions had been cast, and when the scandal had blown over, Bisquick was quietly ensconced as a staple shortcut in just about every kitchen.  For awhile, some stalwart purists insisted on making their own "biscuit mix," but time and tide soon passed them by. 
Purists also, for a time, insisted on making their own sweetened condensed milk.  When they got precious little credit for standing over their stove for hours and hours gently reducing the milk and sugar mixture, cans of Eagle Brand soon enough hopped into their shopping carts.
Even purists have to admit that some shortcuts just make sense. 
And on the subject of sweetened, condensed milk, let's make ice cream! Sometimes it is called Semifreddo.  Actually, it is neither. 
Two Ingredients: Whipped Cream and Sweetened Condensed Milk
Whip together a container, roughly two cups, of whipping cream and one can of sweetened condensed milk. When it's nicely fluffy, add whatever flavourings you fancy, pour into a meatloaf pan, cover with plastic wrap, and freeze over night. I would suggest a good vanilla, at least for vanilla ice cream, but really, use your imagination!
I happened to have some pistachio paste lingering in my pantry, so I made a pistachio ice cream. Served with chopped pistachios, it had a very upscale feel.  Next was three tablespoons of instant coffee melted in a good shot of amaretto and swirled into the fluff for a very grown-up flavour.  You might want to cut back the coffee to two tablespoons if you don't need quite so much wind in your sails. Fruit, of course, would be good. Strawberries and Cointreau?  The alcohol is not so much as to get you tipsy, but it does help to make the ice cream slightly less hard. This definitely depends on your intended recipients. 
It's not blood doping or even a cheat.  Times have changed.  Women are in the workplace.  Clothing is purchased. Birthday parties are cheerfully hosted by fast food chains. Doilies have been cast onto the scrap heap of history.  And you can buy ice cream in the grocery store. 
But on a lazy summer day, when the cicadas are buzzing, the peaches are sweet and the basil is glistening, deepest green, it might be fun to take a few minutes to channel your inner hausfrau and whip up this lovely confection from jillianraecooks.com. 
Fresh Peach and Basil No Churn Ice Cream
Prep time: 15 minutes, 6 hours inactive
Cook time: 0 minutes
Total time: 6 hours, 15 minutes
Yield: approximately 1 pint
INGREDIENTS
2 cups whipping cream
1 300ml can sweetened condensed milk
1 tbsp vanilla extract
3 fresh peaches, peeled and pitted
1 big handful fresh basil
 ½ tsp salt
2 drops yellow food colouring* optional
1 drop red food colouring* optional
DIRECTIONS
If you own an electric hand mixer, blend together the fresh peaches and basil in a large bowl. You can also do this step in a food processor or a blender if you do not own a hand mixer.
In a large bowl whip the cream until stiff peaks are formed. One quick tip: use a metal bowl and metal whisk for this and place them in freezer for approximately 10 minutes beforehand. The colder the ingredients/equipment the better. Whisk in the salt and vanilla extract. Gently fold in the condensed milk, along with the basil peach puree and optional food colouring. Make sure the ingredients are well combined but do not over-mix as this will deflate all of the air you just whipped into the cream. Pour into an 8x8 inch loaf pan (or any freezer safe container that will fit) and freeze for a minimum of 6 hours. For best texture and flavour consume within two weeks.
The competition is over. The aproned housewives have left the field to new warriors of organic and green and gluten free. But they have left a few recipes, techniques, and yes, even short cuts in their wake that might just bear remembering.