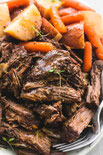 A lovely memory of my childhood was of Mother's Pot Roast done with her terrifying, death defying pressure cooker!  These days, however, we can recreate the deliciousness without the anxiety!
---
Children's stories are rife with transformation, metamorphosis. The Ugly Duckling becomes a swan. Clark Kent becomes Superman.  Straw becomes gold. A frog becomes a prince. The possibilities are endless!  The problem  with this insidious, repetitive, unrealistic fantasizing, is that all little incipient princes, princesses, and superheroes must at some point come to grips with the fact that magic wands and fairy godmothers are the stuff of fiction. But there is some residual dust bunny lurking in many a consciousness that clings to the hope of transformation despite all evidence to the contrary.  The magic of "the right dress" can transform a perfectly ordinary young woman into "A bride".  Hopefully with only the bills for the wedding left to pay, she will be transformed into "A wife".  When a baby is born, she becomes "A mom!" If you study tenaciously, you can become "A millwright!" "A carpenter!" "A teacher!".  Somewhere along the line, every child looks into the mirror waiting to be transformed into, "An adult – complete with all the attachments!"
It is, of course, perfectly natural to define oneself and others by age, occupation etc. but all this becoming adults and swans and such, can be restrictive. I can't join the choir. I'm not a singer. I can't figure that out. I'm not a math person.  That book sounds great, but I'm not a reader. I can't go for a walk. I'm not a walker. 
Maybe you really "become an adult" when you wake up, not with the kiss of a handsome prince, but with the realization that if there is any transforming to be done, you have to roll up your sleeves and get on with it. Become a gardener by gardening! Become a walker by walking! And for heaven's sake, become a cook.  Just google it!  
We are currently in the midst of a flurry of excitement about the Instant Pot, or other popular pressure cooking devices that promise to turn a run if the mill human into a cook with the push of a button! There are a few caveats to bear in mind, however. And one of those concerns meat.
Years of diet consciousness have trained us to avoid purchasing meat with any visible fat. The problem is that lean meat can easily be transformed into something that requires a chain saw to cut and great determination to chew. Lean cuts such as round steak, or the upscale sounding "eye of round" are not great choices for pressure cooking. Where the Instant Pot will come to the rescue is with the cheaper cuts of meat, those with visible fat and connective tissue. The pressure cooking will melt all that and the result will be melt in your mouth pot roasts, stews, pork roasts. Oh my! 
Umami Pressure Cooker Pot Roast (pressurecookrecipes.com). Quantities flexible!
Blade roast (2 inches thick)
Garlic
Small onions
Unsalted chicken stock
Light soy sauce (not low sodium soy sauce)
Fish sauce – if you have it, and you should. 
Olive oil
Rosemary
Thyme
Bay leaves
Red wine or balsamic vinegar
Salt and ground black pepper
White mushrooms
Carrots
Potatoes
Cornstarch + water
Heat up your pressure cooker (Instant Pot: press Sauté button and click the adjust button to go to Sauté More function). Make sure your pot is as hot as it can be when you place the chuck roast into the pot (Instant Pot: wait until the indicator says HOT). This will promote Maillard reaction and prevent excessive moisture loss.
Prepare the Roast: Pat dry with a paper towel. When the pressure cooker is hot, season the chuck roast with generous amount of kosher salt and ground black pepper.
Brown the Roast: Add 1 tablespoon of olive oil into the pot. Ensure to coat the oil over the whole bottom of the pot. Add the seasoned chuck roast into the pot, then let it brown for exactly 10 minutes on each side (don't need to keep flipping). Remove and set aside.
Sauté the Onion and Garlic: Reduce the heat to medium (Instant pot: press cancel button, then press sauté button). Add in the sliced onions and stir. Add a pinch of salt and pepper to season if you like. Cook the onions for roughly 1 minute until softened. Then, add garlic and stir for 30 seconds until fragrant. Add in the mushroom and season with another pinch of salt if you like. Stir and cook for another 2 minutes.
Deglaze: Pour in a dash of red wine or balsamic vinegar and deglaze the bottom of the pot with a wooden spoon.
Add 1 cup of chicken stock, 1 tablespoon of light soy sauce, 1 tablespoon of fish sauce, 1 pinch of dried rosemary, 1 pinch of thyme, and 2 bay leaves into the pressure cooker. Taste the seasoning and add more salt and pepper if desired.
Place the roast back with all its meat juice into the pot. Close lid and pressure cook at High Pressure for 45 minutes 
Turn off the heat. Do not touch and let it fully Natural Release for 25 minutes. Open the lid carefully.
Pressure Cook the Vegetables: Remove the roast and set aside. Cover the roast with aluminum foil and let it rest while pressure cooking the vegetables. Submerge the quartered potatoes into the sauce and stack the chopped carrots on top of the potatoes. Close lid and pressure cook at High Pressure for 4 minutes. Cover the vent with a towel and do a Quick Release. Open the lid carefully.
Make the Gravy: Taste the sauce one final time and adjust the seasoning if necessary. Mix 1 ½ tablespoon of cornstarch with 2 tablespoons of water and mix it into the sauce one third at a time until desired thickness.
Serve: Slice the meat against the grain. 
Congratulations!  You have been transformed!  You have, in this brief, shining moment, "become" a cook!