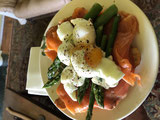 Spring is a time for asparagus.  Wizened winter asparagus is better than no asparagus, but spring asparagus - oh my!
---
We, like all the other animals in the woodlands, twitch our noses and wiggle our ears at the first sign of spring. It may be that sunbeam on our eyelids, that one breeze among all the others that contains a hint of warmth, the dripping icicle, the first time in how long has it been that we tuck our gloves into our pockets. So many little things like a slowly opening gift brimming with promise. At first, of course, we don't trust it. Or we grumble that it's high time. And this year, the tease does seem to be endless!  
But there is always a moment when we believe it. For me, that moment is always asparagus.  Followed, of course, by a bustling bevy of other greenery, but asparagus leads the parade. Those woody, limp, desiccated stalks of winter are replaced by bright, firm, sturdy stalks of spring. We have an urge to buy more of those jolly bundles than we could possibly use, just to possess them. Like cut flowers. Delicious old friends returning. Probably imported from Peru, but harbingers of spring nonetheless. 
Once we get them home, we need to give some thought to preservation. We can get fanciful and put them in water glasses or vases. Lovely. But before very long, we need to get down to the serious business of cooking them. 
There is an asparagus cooker. Yes indeed. A device that exists for the sole purpose of steamimg asparagus. And if any vegetable deserves its own device, it is the lovely asparagus. Although there was a time when I would never have said so.  In my particular youth, asparagus came in cans. Full disclosure: my father worked for a canning company, so dents were a perquisite of the job. I had resolved to give all vegetables the benefit of the doubt, but those limp, stringy canned asparagus spears sorely tested my resolve. Even fresh asparagus were boiled to a sad, weedy mass in those days, so I was perking right along into adulthood before my love affair with asparagus really got off the ground. 
Of course, it didn't take more than a snappy bite of my first fresh, perfectly cooked spear to win my heart. Although I never did acquire an asparagus cooker, I celebrate spring annually with a plate of flavourful asparagus not as a side, but as the main event. 
As a side these days, it's trendy to roast asparagus in the oven with a lashing of olive oil, garlic, salt and pepper, and a sprinkle of grated parmesan. (425 degrees for 10-12 minutes).
But as a main event, on that day when you have procured some firm, sturdy stalks:
Toast. I like white, crustless, rolled thin, brushed with melted butter and toasted.
The asparagus.  Submerged in water. A glass meatloaf pan is ideal.  Cook 4-5 minutes on high in the microwave.  Drain
Place on the crisp toast. 
Top with a perfect soft poached egg. Salt and fresh ground pepper. 
Sprinkle with grated parmesan. 
For the carnivores, a paper thin slice of prosciutto adds a nice, salty note. But just a slice. The asparagus is the star. 
As you break the yolk, which bathes the firm, bright green stalks in liquid gold, as you enjoy every moment of this springtime ritual, you feel your feet landing solidly in springtime. 
Oh there are variations. Ham, perhaps, a slice of tomato and the decadence of Hollandaise. Not that stuff you pick up in an envelope because you heard that Hollandaise is difficult. It's not. It just doesn't like to be rushed. What's wanted here is the real thing. 
Microwave Hollandaise (allrecipes.com)
Ingredients
2 egg yolks 
1/4 lemon, juiced, or to taste 
1 pinch salt 
1 pinch cayenne pepper or a few good shakes of Tabasco
1/4 cup salted butter, melted
Directions
Ready In 5 minutes
Beat egg yolks, lemon juice, salt, and cayenne pepper together in a microwave-safe bowl until smooth. Slowly stream the hot melted butter into the egg yolk mixture while whisking to incorporate.
Heat in microwave for 15 to 20 seconds; whisk.
Don't microwave higher than medium.  You may have to do this several times whisking between, until it thickens.  It will continue to thicken for a bit as it sits, so don't get over eager. 
It won't break, but, if it does – because you were too aggressive – just add a tablespoon of hot water and whisk.  It'll smooth right out. 
After the initial rite of spring, you will toss asparagus into, onto or beside everything as long as it's in season.  It won't get your undivided attention, tucked beside a slab of roast beef as it so often is, but do give asparagus it's due when it first makes its entrance as the culinary harbinger of spring.  Take the time. Smell the soft spring air and enjoy spring's first perfect gift.