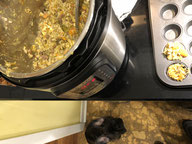 Option A:
Discard and resolve to do better nest week.
Option B:
Soup!
Option C:
Dog food!
---
The other day, I was reading up on the next thing to feel guilty about.  It's important to keep up. Are we choking the oceans with plastic?  Avoiding micro-beads?  Getting enough exercise?  Keeping up with our steps?  Staying ahead of bacteria?  Allowing things to sag? Supporting our friends? Keeping up with technology? Hydrating? Staying politically aware?  Save the bats!  Save the bees! We have to stay on our toes!  Every day is a minefield of guilt. Watch your step!
All these things are important, of course. They are. So here's another one for you.  We waste food.  (There was a thing in the paper). Grocery stores and restaurants waste food for sure. But quite a lot of the mountain of food waste is household waste.  Don't say you don't waste food. Well maybe you don't.  But most of us do. And I know why. 
It's not an official disorder, but most of us harbour several personalities. When we are in the grocery store, we don our nutrition personality. We toss this vegetable and that jauntily into our cart, brain abuzz with plans for glorious meals with which to dazzle friends and family. Once home, we pitch said delights into the fridge, as our nutrition personality is benched, and real life comes into play. 
Instead of entertaining at home with that aforementioned gourmet dinner, it's just easy to join friends for wing night.  Spaghetti is served with meatballs while those fresh salad ingredients languish in the fridge.  Tomato sauce is, after all, a vegetable. Everybody in the family needs to be somewhere else for this or that? Drive-thru. Just this once. Home late from work? Order that pizza. But all those vegetables at home in the bins? Guilt on many levels. No time for exercise. The kids will waste away from malnutrition.  The plastic recycling is filling up fast and here comes garbage day!  With a sigh, we admit that the fresh vegetables that we purchased with the best of intentions, are now looking a bit dodgy and sad. 
We have several options. One, Option A, is to admit defeat, pitch the veg, and resolve, once again, to do better next week. 
Option B is soup. 
Leftover vegetable soup (courtesy of the spruce.com)
You can add meat, of course, if you have some handy. 
"Sort your vegetables into types (root vegetables, leafy greens, peppers and soft vegetables like tomatoes) and decide what goes with what. Then head to the stove. (Or the Instant Pot). 
I always like to start my soups with a base of sautéed onion, garlic, carrots and celery and a good stock then quite literally almost anything else added to the soup pan is OK. Occasionally I will add a few spices to root vegetable soups for extra flavour. And, a few chilli flakes spice things up no end.
All the vegetables listed here are simply a guide. Use what you have. 
1 large onion, peeled and finely chopped
2 garlic cloves, finely chopped
2 large carrots, peeled and chopped into bite-sized chunks
2 celery stalks, washed and chopped into bite-sized chunks
4 tablespoon vegetable oil
3 cups vegetables, peeled and chopped into bite-sized chunks
Roughly a quart of vegetable, chicken or beef stock (Or water with concentrate). 
1 bay leaf
1 teaspoon five-spice powder (optional)
½ teaspoon ground cumin (optional)
Salt and black pepper
Vegetables to Use for Soup
Great vegetables for soup include - parsnips, celeriac, leeks, sweet potato, or any other winter roots, broccoli, cauliflower. Make sure they are the vegetables are cleaned, peeled and cut into similar size chunks. The addition of the root vegetables helps to thicken a soup and means less time reducing on the stove. 
Leafy greens great in soup include spinach, watercress, cabbage, collard greens, and arugula. Don't forget fresh herbs for even more flavour.
Don't be afraid of adding cooked vegetables to the soup. These can be added towards the end of the cooking to make sure they are thoroughly heated through. Great addition to the soup is mashed potatoes, which will thicken the soup as well as add flavour and volume."
This "recipe" is great, of course, in the Instant Pot. There is even a handy "soup" preset!
But, what if you've taken Option B out for a spin one time too many, and your freezer is filling up with soups because your family isn't all that keen on soup to begin with? Is there an Option C?
There is if you have an Instant Pot and a dog. Or any pot and any dog. Actually.  
Dogs can't eat onions or garlic, raisins (google the list) but they can pretty much deal with quite a lot and even quite dodgy. Carrots and sweet potatoes are always popular additions. No trimming or peeling required. The recipe is basically, 1/3 vegetables, 1/3 meat, and 1/3 brown rice, beans, or grains.  No leftover meat?  Liver is an economical choice, and the pups love it!
I fling it all into all into my food processor for starters, but chop things up however you like.  Put 2 cups of water into the Instant Pot (or crock pot, or stock pot). That chopped liver or meat.  The vegetables.  A cup of brown rice.  Instant Pot set on manual 35 minutes, high pressure, natural release. Or till squooshy in your stock pot.  Stir. It should be quite porridgy. When cool, put in mini or regular muffin tins, depending on the size and/or number of your dogs, and freeze.  Next day, transfer to a baggie and toss into your freezer.  Your dog will be thrilled. I mix with some kibble for crunch. 
So there you go!  Dodgy veggies dispatched. A happy dog gazing at you with adoration.  One thing to check off your guilt list - for this week anyway.  Until you set out for the store wearing your nutrition personality. 
Now then, get counting those steps! 
And what can we do to save the bees?