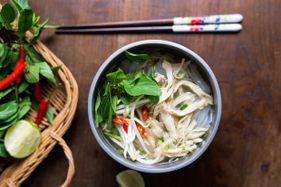 In Vietnam, pho is eaten morning, noon, and night. The flavorful broth is traditionally cooked for hours to achieve a full-bodied flavor, but with a pressure cooker, you can enjoy this rich and complex soup in a fraction of the time. epicurious.com
I thought I'd try subtitles. We'll, it's not that I never have. Not never ever. There was that daring evening somewhere in the dark and complex seventies when the banned Swedish film, I am Curious Yellow was playing in sketchy movie theatres. Some fresh-faced friends and I had heard that it contained explicit nudity, which was quite the novelty back then.  These days it's hard to avoid rampant bouncy bits even if you try. At any rate, the whole venture was a bit of a disappointment.  Nudity, it seems, needs a good deal of flashy cinematography to elevate it beyond just awkward and embarrassing.  And, to make matters worse, it turns out that the movie was banned because of its opposition to capitalism, which, I'm sure, no one in that particular theatre even noticed, or would have cared about if they had.  The seventies, it seems, were just an unfortunate sequel to the sixties, disappointing as so many sequels are. 
After that initial experience, I avoided subtitles.  That is, until Netflix rolled into town like the circus, showcasing exotic delights from the four corners of away. Just as many of us stared, perplexed, when first confronted with chopsticks, subtitles evoke the same puzzled expression. But most of us figured out, generally by googling, how to manage chopsticks.  So it must be time to tackle subtitles. 
You have to pay attention, of course. Start scrolling through your Facebook newsfeed and you've missed the whole thread of the thing, but once you've mastered focus, it's really quite fun. Like eavesdropping on another culture from the comfort of your own home.  You do learn, once again of course, that people are fundamentally the same wherever you go, but you also notice some of those subtle cultural differences.  You can observe nuances of etiquette, transportation, housing and, most of all, for me anyway, cultural practices around food and eating. None of these things are a focus of the story. They are incidental, natural and unselfconscious. You can almost smell the curry.  Your fingers itch to grasp chopsticks and slurp noodles. You are a fly of the wall with the benefit of subtitles. And an appetite for naan. 
You could go full-on Bourdain, bless his memory, and pack your bags, or you can grab your googler, make a shopping list, and head for the store.  These days, many ingredients previously thought to be rare, are gracing the shelves of our local grocery stores. Fresh ginger is there. And coriander. Sesame oil. Fish sauce.  So many items that you don't notice until you look for them. And there are also some prepared sauces and spicy concoctions that will save you a few of the more arduous steps. Surely you'll want to give those a try. 
While bingeing tv series' from South Korea, I got quite a hankering for those slurpy bowls of noodles that the characters are enjoying while angsting over the complexities of their social lives. How hard could noodle soup be?
We are becoming accustomed to Pho (pronounced fuh), since Pho restaurants have popped up in Ottawa, so it doesn't seem to be a far leap to try that at home. If you have an Instant Pot, you are a hop, skip and a jump from  tasty bowl of this delicious Asian noodly soup, but if you don't, it will bubble away in a slow oven for six hours or so. Both preparation techniques are delicious. 
Instant-Pot Vietnamese Chicken Noodle Soup (Pho Ga) from epicurious.com
INGREDIENTS
2 tablespoons canola oil
2 medium yellow onions, halved
1 (2-inch) piece ginger, cut into 1/4-inch slices
1 tablespoon coriander seeds
3 star anise pods
5 cloves
1 cinnamon stick
3 cardamom pods, lightly smashed
6 bone-in, skin-on chicken thighs
3 tablespoons fish sauce
1 tablespoon sugar
8 cups water
Kosher salt
Freshly ground black pepper
4 servings rice noodles, prepared according to package directions
Toppings:
3 scallions, sliced
1 small handful fresh herbs, such as mint, cilantro, and Thai basil, chopped
1 lime, cut into wedges
Handful of bean sprouts (optional)
1 jalapeño, thinly sliced (optional)
PREPARATION
Preheat the Instant Pot by selecting Sauté on high heat.
Once hot, add the oil to the pot. Add the onions, cut side down, and the ginger. Cook, without moving, until charred—about 4 minutes.
Add the coriander, star anise, cloves, cinnamon stick, and cardamom. Stir and cook for 1 minute more. Add the chicken, fish sauce, and sugar and immediately pour over the water. Secure the lid.
Select Manual and cook at high pressure for 15 minutes.
Once cooking is complete, use a natural release for 10 minutes and release any remaining steam. Remove the chicken from the pot and carefully strain the broth. The broth is the goal here. You will discard the aromatics that have been flavouring the broth.  Season with salt and pepper as desired.
Place the cooked noodles in 4 bowls. When the chicken is cool enough to handle, pick the meat off the bones and add to the bowls. Pour over the broth and top with scallions, herbs, lime, and bean sprouts and jalapeño (if using).
This makes four very generous servings. 
Ingredient Tip
If you have trouble finding whole dried spices, try an international market or health food store, or order them online. Try Cook's Corner first.  And T&T in Ottawa is always a fun adventure if you're in that neighbourhood. 
An interesting short cut is to simply buy the pho broth locally just there, beside the chicken and beef broth, as a basis for your home pho. 
And there you have it. The next time you are wondering what's dinner, throw caution to the breeze, head for Netflix and choose something with subtitles!  Dinner will be delicious!
FYI: I have no recollection of a craving for pickled herring as a result of viewing I am Curious Yellow.