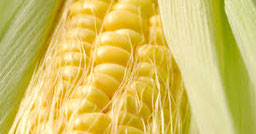 Whatever your family techniques and traditions, the main thing is that you eat corn until it's coming out of your ears, because, as we well know, corn season won't last! Fall is just around the corner! Seize these lovely days!
Corn is the ultimate comfort food for folks in corn country. Corn is high summer, the eye of summer. Corn is time to seize the days, time to get together with those friends we've been meaning to call. Corn means, "It's time!" and also, "Time is running out!".  This is it!  The best of days. The tender heart of the watermelon. The shiniest leaves of basil and the mintiest mint bashed in the lemoniest of lemonade.  It is the best of boating and the splashiest of pool time. It is the heartiest of laughter and the warmest of smiles around the fire pit.  
Back in my day, the canning companies would throw "Corn on the Curb" events in small town main streets.  Great truckloads of shucked corn would roll in, complete with vats of melted butter and great shakers of salt. There must have been paper plates and paper towels, but I don't remember the details. I just remember sitting on the curb in the next town up the road called Sleepy Eye, home of DelMonte, as the setting sun turned the world golden, bony elbows resting on bony knees, eating the best food in the world and thinking that all this would go on forever. 
But corn is also the harbinger of fall. There is the lurking sense that time is slipping through our fingers, that "nothing gold can stay".  Corn is in. It's time to slow down and savour the precious days. 
And everyone knows best how all that savouring should happen. 
Some folks swear that corn should be boiled in water containing sugar. Never salt. "Salt toughens the kernels".  Three minutes after the water returns to the boil!  No more!  Though some are convinced that the water should be salty. And at least eight minutes. I'm firmly in the former camp, FYI. 
And there's the stalwart large family camper crowd who shuck the corn, toss it in a cooler and pour boiling water over top. It stays perfect for hours. This is red neck Sous Vide!
Specifics from outdoorchannel.com:
"Ingredients:
Ears of corn
Water
Directions:
Shuck the amount of ears you want to cook and place in a clean cooler.
Bring two pots of water (2 quarts per dozen) to a boil and pour over the ears.
Place the lid on the cooler.
In 30 minutes, you have perfectly cooked corn. Drain cooler and keep the lid closed. The corn will stay warm for about 2 hours."
I love how they specify a clean cooler!
Some of our more considerate hosts will cut the corn from the cobs and give them a quick toss in butter and a sprinkle of salt.   Always appreciated, especially by the more senior guests. 
Some folks roll their corn in a slab of butter. Others delicately balance a bit of butter per bite. 
And no matter how much corn you eat, if your hosts are as generous as they always seem to be, there will be leftover corn!  Hooray!  Sure, freeze it, but my favourite thing to do with leftover corn is Fritters!
Martha Stewart (marthastewart.com) suggests this recipe, and I've loved it for years:
Crispy Corn Fritters with Roasted Red Pepper Pesto
Serve these deep-fried Crispy Corn Fritters as a snack, appetizer or as side with fish. For a sweet treat, drizzle with maple syrup or dust with icing sugar. (Makes a fabulous breakfast!)
INGREDIENTS
Crispy Corn Fritters
2/3 cups all-purpose flour
1/3 cup cornmeal, medium grind
1 tsp. sugar
1 tsp. salt
2 tsp. baking powder
1 egg
1/2 cup milk
1 1/2 to 2 cups fresh or frozen corn kernels
Vegetable or peanut oil, for frying
Assembly
Serve with Roasted Red Pepper Pesto (below)
PREPARATION
In a large bowl, combine flour, cornmeal, sugar, salt and baking powder. Set aside.
In another bowl or measuring cup, whisk together egg and milk until combined. Stir wet ingredients into dry just until blended. Do not over mix. Fold in the corn kernels. Let sit for 10 to 15 minutes.
Pour enough oil to come 2 to 3-inches up sides of a heavy-bottomed saucepan. Heat oil to 375 degrees F. over medium heat.
Using 2 spoons or a small ice cream scoop, add rounded tbsps. of batter into hot oil. Fry in batches to avoid overcrowding the pan and lowering the temperature of the oil. Cook until golden brown, about 1 to 2 minutes per side. Transfer to paper towel to drain excess fat.
Roasted Red Pepper Pesto
Use this quick and easy Roasted Red Pepper Pesto as dip for grilled shrimp or sauce for pasta. For a more traditional pesto, add a little freshly grated Parmesan cheese.
INGREDIENTS
1 garlic clove, roughly chopped
1 cup roughly chopped roasted red peppers, jarred or homemade
2 sun-dried tomatoes, roughly chopped
2 tbsp. chopped fresh basil leaves
1/4 cup pine nuts, toasted
2 tsp. red wine vinegar
1/4 cup to 1/3 cup olive oil
Salt and freshly ground pepper, to taste
PREPARATION
Add garlic, roasted red peppers, sun-dried tomatoes, basil, pine nuts, red wine vinegar and 1/4 cup olive oil to food processor. Pulse until smooth, adding more olive oil if needed. Season with salt and pepper. 
Whatever your family techniques and traditions, the main thing is that you eat corn until it's coming out of your ears, because, as we well know, corn season won't last! Fall is just around the corner! Seize these lovely days!