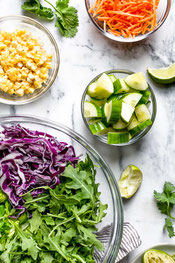 How to assemble the essential components of:
.Base
.Veggie/fruit
.Protein
.Topping 
.Bonus
To create a nutritious, delicious, dinner salad!
Time to go shopping!  You need bowls. Not the small cereal bowls that came with your set. Big, generous bowls. That pasta serving kind.  They will be the blank canvas to inspire your creativity.  Because it's time to shake things up! It's time to create combinations of taste and colour that will tickle your taste buds and goose those of your friends and family as well.  
You tell me, you can't serve guests food in bowls like you do the dog!  They would be shocked and insulted!   Nonsense! Unless you're expecting the queen for dinner, you can get off that high horse. 
Or, you say, I'm not creative!  I have a repertoire of reliable recipes that I can count on, including those two that always work when company's coming.  
Well, bowls are the new cool thing, especially those showy ones we just added to your shopping list, so your guests will be impressed rather than insulted.  
And creativity will happen. Because there is a reliable formula that, if followed, as loosely as you wish, will result in accolades. 
• Base
• Veggie/fruit
• Protein
• Topping
• Bonus
BASE
You may assume, not always incorrectly, that the base has to be salad greens, in all their glorious variations from spinach to radicchio, kale, cabbages and beyond. Pick whatever looks good and is in season. But the base can also be or include a grain, such as farro, quinoa, rice, pasta, couscous… Or a pulse, such as chickpeas, lentils, black beans, kidney beans, red or white…you get the idea. And for those, being in season need not be an issue. These guys can lurk year round in your pantry. 
VEGGIE/FRUIT
You know your fruits and veggies of course, but here is your chance to select a few interesting combinations. Bell peppers and butternut squash, cucumbers and peaches. Melons! Grapes! Fennel! Consider the ethnicity of your bowl. Does it lend itself to the flavours of India or Thailand, or the American South? This may help you in your selection of veggies and fruit. 
PROTEIN
Here's where you add your sliced steak, or chicken, fish, ham, bacon or eggs. Tofu, of course, but if you're there already, you can skip to the head of the class and out the door because you've probably been following this formula for years!
The protein may be the star of the show, but it shouldn't dominate. This is more about balancing flavours, instead of the more traditional large serving of meat with a few innocuous supporting actors. 
TOPPINGS
And now it's time for that feta, or other cheeses, nuts and crunchy bits.  Toppings add important flavour notes and textures. Toasted pine nuts!  Pistachios! Bacon bits! Seeds!
BONUS
This could be a pickled item, an herb or a spice. It's time for capers, artichoke hearts or those pickled garlic scapes that you impulse bought back when. Herbs!  Spices!
Now, a sprinkle of salt, and a light vinaigrette, a swirl of olive oil or a squeeze of lemon to bring your creation together with a flourish and you've assembled a masterpiece!  A feast for the eyes as well as the taste buds!
Here's an example of someone who took the formula to a high level with lots of mixing and matching of colours, textures and flavours!  
SPICY THAI SHRIMP SALAD
INGREDIENTS:
THE BASE
1 cup shredded purple cabbage
1 ½ cups packed baby arugula
1 ½ cups packed chopped romaine lettuce
FRUITS AND VEGGIES
1 small corn cob, kernels removed
½ medium cucumber, sliced or diced
½ cup shredded carrots or those spiralized ones from the store. 
THE PROTEIN
Raw, deveined shrimp, sizzle in hot oil for only a few minutes until just barely done! Sesame oil adds a nice Asian touch if you have some around. 
THE TOPPINGS
2 tablespoons chopped basil
2 tablespoons chopped cilantro or parsley if you prefer. 
BONUS
A handful of toasted cashews
Lime wedges, for serving
A good purchased or homemadeThai salad dressing adds a Thai note, or just olive oil and lemon juice.  
The assembly:
In a large bowl, toss together the cabbage, arugula and romaine.  Transfer mixture to 2 salad bowls or plates.
Top each with half the shrimp, corn, cucumber, carrots, basil and cilantro/parsley. 
Evenly drizzle the dressing over both salads and serve with toasted cashews and lime wedges.
Enjoy!
I know it seems like a lot of fiddling, chopping and slicing and such, but once you have that done, you have tomorrow taken care of as well.  Tomorrow, consider thinly sliced steak. You have your leftover chopped bits from today. Maybe add that can of pinto beans that you've  been wondering what to do with and have been too embarrassed to give to the food bank.  Maybe make a quick green sauce by whirring together some fresh herbs from the garden with the juice of a lemon, a garlic clove and enough good olive oil to make a nice slurry.  Salt. Red pepper flakes!  Oh yes!
A great tip is to prep all your salad bits when you get them home or shortly thereafter. Then assembly of a healthy, delicious meal is a breeze. You can also take advantage of some of the convenient ways that vegetables are now available at the store. If you know in your heart of hearts that you are not going to find a time to prep your veg in spite of all your best intentions, it is probably wise to spend the extra money and buy those fancy julienned and pre-spiralized veggies that you will actually eat.  
And do consider some new and interesting combinations. If you follow the formula, you can't go wrong! Time to get "bowling"!