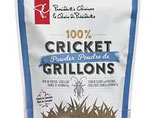 The world is changing and we have to change with it or be left on the shelf.  To try cricket powder, you only have to be brave once.  High diving board!
---
A nearby child once told me that she likes eggs – "Except when I think about them".  Point taken. 
And we have the expression, "Laws are like sausages. It's better not to see them being made." I'm sure! Wherever parents gather, it isn't long before they are swapping war stories about force feeding nutrients into their tyrannical "picky eaters".  Tips and tricks are shared. Apparently there is a point beyond which imitating an airplane just doesn't cut it. It is assumed, often wrongly, that the little blessings will eventually "grow out of" their picky proclivities. 
Not necessarily. I remember being fascinated by the dogged determination with which an adult of the species carefully removed every particle of mushroom from an all-dressed pizza at a staff gathering. Conversation ground to a halt.  The agenda was abandoned. Having established that an allergy wasn't the issue, we munched away, quietly reflecting on the failings of her parents.  
Of course, everyone has preferences. Some things we eat because we know they are good for us, or because they are served, but we don't necessarily seek them out. We all know, or even may be, that person who enjoys fish. Except when served with the head still on. It's that startled, accusing eye… But for the most part, we pride ourselves, some more than others, on being able to glide with equanimity through every culinary challenge that life throws in our path. Eggplant?  Bring it on!  Raw oysters, why not?  Okra?  Sure!  Eel?  You betcha!  Crawfish, in places referred to as "mud bugs," of course! Crickets?  Stop right there!
Suddenly we all, or most of us, revert instantly to our inner six year old picky eater when our eye rests upon a bag of 100% Cricket Powder, "Made with crickets farmed right here in Canada, this 100% cricket powder is a nutritious, versatile food that is high in protein and an excellent source of vitamin B12. Finely ground with a mild taste, it can be added to smoothies, sauces, chilli, curries and baking batters". President's Choice, no less. 
It has a word. From the Greek. Entomophagy. The human use of insects as food.  80% of the world's population eat insects in some form. We know this. Our reason can't help us out here.  
We certainly can't argue that we only eat attractive animals. Even if it were true, it would be a bizarre argument from the get go. In the second place, if they get too attractive, we are equally as reluctant. I need only mention dogs, cats, horses and bunny rabbits to elicit a visceral response from most good rib sucking wing eating friends and neighbours. 
But the animals we eat are slaughtered behind closed doors and tidied up in neat packages, deboned and skinned, wrapped in plastic and presented as though it had never lived and breathed among us.  Sounding like a vegetarian am I?  Actually just making a point. 
The problem with crickets is just the icky factor.  We can't say that they look icky. They are ground to a fine powder. So.  Next argument?
I am not casting aspersions at you, gentle reader, for I too love ribs and bacon and chicken wings. And yet, I need to take myself, and my deeply rooted cultural prejudices in hand to even suggest that I hop on my steed, raise the buggy standard and lead my fellow reluctant friends and neighbours onto the battlefield of Entomophagy.  Ok. So maybe I'm not Joan d'Arc, but it truly isn't easy peasy to fight off life-long, firmly held food prejudices. But if I hope to continue to cast aspersions at such as the picky mushroom averse colleague, I'm afraid I must put my cricket where my mouth is. So here goes!
As the New York Times points out, cricket flour is quite a bit more expensive than traditional all-purpose ($1 an ounce versus about $1 a pound), but Megan Miller (of the cricket baking company, Bitty Foods,) expects the price to drop as food-grade crickets become more plentiful. Which should be soon enough considering the insect's proclivity for replication. The gluten-free, high-protein flour somewhat makes up for its price with ease of use—it can act as a 1:1 replacement in any baking recipe. So let's roll!
Apricot-Tarragon Cocktail Cookies from foodandwine.com
Ingredients
1/2 cup dried Turkish apricots, 
finely chopped 2 tablespoons finely chopped tarragon leaves 
1/2 cup sugar 
1 stick unsalted butter, softened 
1 large egg yolk 
1/3 cup extra-virgin olive oil 
3/4 teaspoon sea salt 
2 cups all-purpose flour (or cricket powder)
How to Make It
Step 1    
In a small bowl, cover the apricots with hot water and let stand for 10 minutes, until they are plump. Transfer the apricots to paper towels to drain.
Step 2    
In another small bowl, rub the tarragon leaves into the sugar until they are moist and aromatic. In a standing mixer fitted with the paddle, beat the butter with the tarragon sugar at low speed until creamy. Beat in the egg yolk until just combined, about 1 minute. Slowly drizzle in the olive oil and beat until smooth. Add the salt and "flour" and beat until just incorporated. Using a large spatula, fold in the apricots.
Step 3    
Turn the cookie dough out onto a work surface and knead until it just comes together. Divide the dough in half and press each half into a disk. Roll out each disk between 2 sheets of wax paper to about 1/4 inch thick. Slide the wax paper–covered disks onto a baking sheet and freeze for at least 1 hour, until very firm.
Step 4    
Preheat the oven to 350° and line 2 large baking sheets with parchment paper. Working with one piece of cookie dough at a time, peel off the top sheet of wax paper. Using a 1 1/2-inch round cookie cutter, stamp out the cookies as close together as possible. Arrange the cookies 1 inch apart on the prepared baking sheets.
Step 5    
Bake the cookies for about 20 minutes, until they are lightly golden; shift the baking sheets from top to bottom and front to back halfway through. Let the cookies cool on the baking sheets for 3 minutes, then transfer them to a wire rack to cool completely.
They suggest serving with a nice, fruity Pinot Blanc. 
The results of my taste test:
Actually, I would never have been able to identify the mild and slightly nutty addition to these delicious cocktail cookies!  Though I'm not quite ready for the South American delicacy, Suri – a big, fat larva, enjoyed roasted or live and wiggly. Oh my!