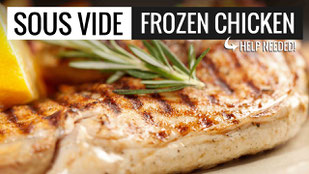 Sous Vide sounds fancy, but actually, it is a wonderful secret for busy folks on the go.  This is primarily because it is so forgiving.  If you are an hour late, your roast beef will just be a bit more tender, and still at just your preferred degree of doneness!
---
There are quite a few things I know now that I wish I had known then.  Yes, I was not fat and homely. I was fine. No. No one cared what I was wearing or if I had worn the same thing to the last party. Yes, I would graduate. Be a bit less obsessive about that studying!  Give it a rest!  Yes.  Go to Woodstock. Even though it was $90 for the bus trip and you had a paper due. 
I could go on and on, but you get the idea. Live a little!  Loosen your hubs! 
But all that seems to be about being less structured and organized. There's an equally strong argument for being more structured and organized. I wish I had known then about cooking once and eating twice. Or thrice.  If you've anyway got the ingredients bought, washed and chopped, make a whole mess of whatever it is and freeze it for those lean days when you arrive home late from work without a song in your heart or a thought in your head. Then that vacuum packed, neatly labelled shepherd's pie will put the spring back in your step. If you were really on the ball, you would have anticipated and moved it to the fridge before you even set out to slay the daily dragon. 
But if you do get caught short and are tempted to pick up a rotisserie chicken from the grocery store, (and if you have an Instant Pot), try this alternative for fun: (from 365daysofcrockpot.com)
WHOLE CHICKEN FROM FROZEN IN 1.5 Hours
INGREDIENTS
1 whole chicken (mine was 5 lbs and almost too big to fit in my IP. So I'd recommend a 4 lb chicken)
1 cup water
1 bay leaf
2 Tbsp melted butter
1 tsp dried rosemary
1 tsp dried sage
1/2 tsp dried thyme
1 Tbsp kosher salt
1/4 tsp black pepper
1 tsp garlic powder
INSTRUCTIONS
Add 1 cup of water to the bottom of the Instant Pot and put the bay leaf in there too. Place the trivet in the bottom.
In a little bowl combine the butter, rosemary, sage, thyme, salt, pepper and garlic powder. Use your fingers to run this mixture all over the chicken. Place the chicken, breast side up, on the trivet.
Cover the Instant Pot and set the timer on manual for 60 minutes. Make sure valve is set to "sealing." When the timer beeps let some of the pressure release naturally for 15 minutes and then switch the valve to "venting" and release the rest of the pressure.
Use a thermometer to check the temperature of the meatiest portion of the chicken. It should read 165° F. If it's not up to temperature then you'll want to cover the pot and cook on manual setting for 5 more minutes.
Place the chicken on a cookie sheet and put under the broiler for 5 minutes to crisp up the skin.
Slice chicken and serve. Season to taste. Save any leftovers to use in other recipes or make sandwiches and wraps with it.
Back in the day we had the Crock-Pot to fall back on. Now we have the 21st century version – the Instant Pot to save the day. 
But that's not the only arrow the modern working superwoman has in her quiver. There is also sous vide. Looking for tender roast beef without the high cost of Prime cuts?  Read on!  The sous vide device will very quickly pay for itself!
It's simple – the even, slow cooking ensures that your cut of beef NEVER overcooks! The longer you cook the beef, the more tender the meat becomes, without ever overcooking. This also means that the beef is never dry. Sous vide takes planning, because it takes time, but while it's working it's magic, you'll be sleeping and working and meeting your goals, confident that dinner will be delicious. 
The more tender the cut, the fewer hours, but even if you get home late, your beef will be tender and cooked just the way you like it. Later than you thought, even by hours? No problem!
Here's a recipe from umami.com that is so easy and delicious!  You do need a sous vide device like the Anova, a food safe plastic bag such as a zip lock, and a large pot of water. 
INGREDIENTS
3 1/2 lb beef roast
2 cloves garlic minced
1 tbsp rosemary minced
1/2 tbsp Worcestershire sauce
1 tsp smoked paprika
1/2 tsp mustard powder
1/2 tsp onion powder
2 1/2 tsp salt
1/2 tsp pepper
INSTRUCTIONS
Set up your sous vide station with the cooker set at 136℉ or 130 for rare, my personal preference. 
In a small bowl, mix the minced rosemary and garlic with the smoked paprika, mustard and onion powders, salt, and pepper.
Rub the roast down with Worcestershire sauce, then spread the spice rub over the whole roast.
Seal the roast in a plastic bag and cook at 136℉ for 24 hours. When the roast is done cooking, drain the liquid into a small bowl and set the roast aside for finishing.
The roast can be finished a couple of different ways. For a nice crust on the outside, place the roast on a broiler pan and finish it in a 350ºF oven for 15 minutes. If you don't care about having a crust, let the roast rest for a few minutes before serving.
The juices from the roast can be served as an au jus sauce; just take the liquid from the roast and bring it to a boil in a small sauce pan for a couple of minutes. The au jus is especially good when you're using the roast beef to make French Dip sandwiches.
With both of these techniques, you can have dinners for days without even breaking a sweat. Invite friends for dinner on a work night?  Sure. Come on ahead!  Dinner's ready!