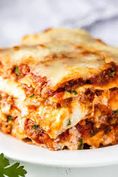 Lasagna is wonderful.  The classic.  It takes time.  We tend to take so many shortcuts that we lose sight of the glory of the true recipe.  Sometimes it's best to take the time!  It's worth it!
---
There was a time many years ago that I swore I would die – literally – if my long-suffering mother wouldn't procure for me the secret of everlasting happiness – the 50 yard crinoline!  This fifty yards of stiffened netting underskirt attached firmly to a waistband, was the very thing to elevate the trendy poodle skirt into the stratosphere of style. I got it, of course. As did every other style maven of my home town, and wore it the few times that Mother predicted I would, before the next big thing came along without which I would die. Literally. 
Years pass. Trends come and go. Not long after that, I, like every other cool student of the day, donned bell-bottoms, granny glasses and masses of cheap beads.  My near death experience at that time was that, no matter how assiduously I ironed my hair to emulate Mary Travers of Peter, Paul and Mary fame, humidity continued to defeat me. Thank goodness Janis Joplin came along to turn the fashion tide and save my life. Literally!
The transition from Madmen to 'Make love, not war' was also the transition from casseroles to lasagna. A casserole, you understand, was based firmly on the foundation of canned cream soups.  Those ubiquitous soups, long treasured for their ability to toggle together a variety of disparate food bits into a unified whole, had no cool factor to the generation that had shed its 50 yard crinolines to follow Leonard to a place by the river, 'to feed him tea and oranges that came all the way from China'. 
No.  The times, they were a-changin'.  There was no turning back to the casserole.  No siree, Bob. We were all about authenticity. And where better than the country that was just then introducing us to the peasant pleasures of pizza?  And so it was that the casserole was supplanted by Lasagna! It became ever popular and everywhere. And it had a long run. It was delicious, inexpensive to prepare, would feed an army, and probably has, and freezes a treat. What more could we ask?  And yet, alas, it has begun to be publicly disparaged.  So yesterday.  It is surely destined to join poodle skirts and bell bottoms on the scrap heap of history.  Part of the problem, of course, is overexposure. And another part of the problem is that it has been treated with too little respect. People would slap some lasagna noodles in a dish with a jar of tomato sauce, hamburger and cheese and call it Lasagna.  It never would have been everywhere if everyone had fussed as much as they should have.  "The ricotta layer is fussy.  You can skip it". "Leave out the spinach or the kids won't touch it!".  Before you know it, it had become a sad semblance of its potential deliciousness. Before it dies of Trend-itis, death by a thousand short cuts, let's give the queen of Italian cuisine, the respect that she is due. 
Here is a great recipe from bhg.com.  (That's Better Homes and Gardens).  It's a classic, though without the addition of the few packages of thawed chopped spinach, squeezed dry, which I insist on mixing into my ricotta layer!  
Classic Lasagna: It's All in the White Sauce
First, cook 12 dried lasagna noodles according to their package directions. Drain the noodles. Rinse them in cold water and then drain them a second time. Place the noodles in a single layer on a sheet of foil and set them aside. 
A classic béchamel sauce is a secret to a rich saucy lasagna. Mince 3 cloves of garlic. Over medium heat, add 2 tablespoons of butter to a medium saucepan. When the butter's melted, add the garlic. Cook and stir it for a minute. Add 3 tablespoons of flour, a quarter teaspoon of salt and a quarter teaspoon of ground black pepper. Stir it together using a whisk. Pour in 2 cups of milk all at once and whisk the sauce vigorously. Cook and stir the sauce until it thickens and bubbles. You want to get all of the flour cooked out, so cook it for another minute once it boils. Remove it from the heat. Stir in a quarter cup of grated parmesan cheese and then set the béchamel sauce aside. 
It's time to make the meat sauce. 
Chop one large onion. You'll need one cup. Mince 2 cloves of garlic. Over medium high heat, add 8 ounces of ground beef to a large skillet. Then add 8 ounces of both Italian or pork sausage or if you prefer, make it an all-beef lasagna by adding more ground beef. Break the meat up with your spoon. Add the onion. and the garlic. Cook and stir until the meat is brown. Once the meat is brown, drain off any excess fat, return the skillet to the heat. Add 1 14-1/2 ounce can of diced tomatoes with its juice. One 8 ounce can of tomato sauce. One tablespoon of crushed dried Italian seasoning, (or fresh basil and oregano if you have them, one teaspoon of crushed fennel seeds and a quarter teaspoon of ground black pepper. Bring the sauce to a boil then reduce the heat. Cover the pan and simmer the sauce for about 15 minutes. Stir the sauce occasionally to keep it from sticking to the bottom of the pan.
While the meat sauce is simmering, let's mix up the ricotta filling. Lightly beat an egg in a medium bowl. Add 1 15 ounce container of ricotta cheese and that spinach if you're me, and a quarter cup of grated parmesan. Mix the ricotta filling until it's creamy and set it aside. 
Now we're ready to assemble the lasagna. 
Pre-heat the oven to 375 degrees. 
Then spread a quarter cup of the meat sauce in the bottom of an ungreased 3 quart rectangular baking dish. Arrange 3 of the noodles lengthwise over the sauce. Spread a quarter of the ricotta filling over the noodles. Then spread a quarter of the béchamel sauce over the filling. Top that with a quarter of the meat sauce and sprinkle half a cup of shredded mozzarella cheese on top. Repeat this layering two more times. And for our last layers, let's put on the remaining 3 noodles, the remaining ricotta filling, the remaining béchamel sauce and the remaining meat sauce. Make sure you cover the top completely with the sauce. Now sprinkle on another half cup of mozzarella cheese. If you like, you can sprinkle on some additional grated parmesan cheese. We're going to bake this lasagna now. But if you like, you can cover the assembled lasagna and refrigerate it for up to 24 hours. Bake it uncovered at 375 until it's heated through about 45 to 50 minutes. Since this lasagna has not been refrigerated, bake it for 30 to 35 minutes or until it's heated through. Allow the lasagna to stand for 15 to 20 minutes before serving. This will give the layers time to set. To round out your Italian dinner, serve the classic lasagna with the green salad and crusty bread. Hopefully, you'll have some leftovers because this lasagna is just as delicious for lunch the next day.
Viva Lasagna, the Queen of Italian cuisine!  Long may she reign!