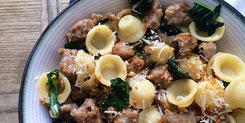 Kale got to be a bit overdone there for awhile, but let's not throw it out as "yesterday's trend".  Try incorporating it into just about any pasta dish for a splash of colour and a dash of nutrition!
---
When aliens come from other planets, they first send emissaries. Like dipping their toes into our culture to assess our tolerance.  We eye them with suspicion at first, of course. They are aliens, after all.  But they have tricks to entice us to trust them. Once they have a toe-hold on our consciousness, once we are softened up, once our minds have opened a crack, they call in their fellows and all settle in as though they had always lived among us.
Reading a Smithsonian magazine recently, I was reminded of the tomato's rocky road to our dinner tables:
"In the late 1700s, a large percentage of Europeans feared the tomato.
A nickname for the fruit was the "poison apple" because it was thought that aristocrats got sick and died after eating them, but the truth of the matter was that wealthy Europeans used pewter plates, which were high in lead content. Because tomatoes are so high in acidity, when placed on this particular tableware, the fruit would leach lead from the plate, resulting in many deaths from lead poisoning. No one made this connection between plate and poison at the time; the tomato was picked as the culprit."
Of course, one culture's delicacy is another culture's, "You've got to be kidding!". 
Speak to most folks about eel, and they will gasp in horror. Because of the expense, most Dutch folk will keep this splendid delicacy a closely guarded secret. 
Chickpeas snuck in dragging Tahini along for the ride and before we knew it, hummus, with a drizzle of the best olive oil and a halo of Kalamata olives, was as common as those little sausages floating in BBQ sauce – but don't forget the pita.  Things started to be garnished with chopped mint, where parsley once held firm. Toasted pine nuts began to be tossed liberally everywhere, when once they had been relegated to a few suspect ethnic recipes brought to pot lucks by only the most adventurous. 
Brie was eyed with suspicion when we started to venture from the security of Velveeta or those handy wrapped slices that so neatly fit sandwich bread.  What's that stuff on the outside of the Brie?  Can one eat it?  Dare we try?  In no time flat we were tossing wheels of the stuff into Brie bakers and digging into it with torn crusts of baguette  and gusto - no longer strangers in a strange land. 
Some aliens land with enthusiasm, but soon wear out their welcome. Kale comes to mind. We were good sports about the many leafy greens that elbowed the trusty head of iceberg off our plates, but when kale barged in, many a door was barred.  Oh, once alien food items move in, they're all here to stay.  Some will be stars, but others will probably spend a lot of time warming the bench, no matter how nutritious. Kale may not be the star, but it's a sturdy support to many a meal in need of a green. Throw chopped kale into the pasta water when the pasta goes in and you have added nutritional value and a lovely bit of colour that even picky kids won't bother to pick out – if you chop it fine enough!
Try this delicious recipe from foodnetwork.com:
Turkey Sausage and Kale Orecchiette with Toasted Panko and Parmesan
Ingredients:
·       2 cups rainbow kale. chopped
·       1 lb. dried orecchiette pasta
·       1/2 lb. turkey sausage, casings discarded and meat chopped
·       3 large garlic cloves, minced
·       1/3 cup plus 1 tablespoon extra-virgin olive oil
·       1/2 cup panko bread crumbs
·       2 tablespoons sea salt, plus more, to taste
·       1/2 cup grated Parmigiano Reggiano cheese
* Add a pinch of red pepper flakes for a bit of bite
Directions:
1.     In a pan over medium-low heat, warm 1 tablespoon olive oil, add the bread crumbs and stir to coat. Season lightly with salt and cook, stirring often, until the crumbs are an even, deep golden brown, about 10 minutes. Set aside to cool.
2.     Bring a large pot of water to a rolling boil, add 2 tablespoon salt and the kale and cook until tender, 2 to 3 minutes. Cool under cold running water, drain and squeeze gently to remove excess moisture. Chop coarsely and set aside.
3.     Cook pasta until al dente according to the package directions.
4.     Meanwhile, warm the 1/3 cup olive oil over medium-low heat. Add sausage and garlic and cook, stirring and breaking up meat with the back of a wooden spoon until browned, about 7 minutes. Add the kale and stir to combine for about 2 minutes. Season with salt.
5.     When the pasta is ready, scoop out and reserve about 2 ladlefuls of the cooking water, drain the pasta and return it to the pot. Add the sausage mixture and cheese and toss well over low heat to combine, adding some of the cooking water, if needed.
6.     Top each portion with a sprinkle of the toasted bread crumbs and more cheese.
The turkey sausage is not essential. Any sausage you have to hand will do. Orecchiette is nice, but whatever pasta you have works fine as well. But you already figured that out. 
If you are efficient, make lots so tomorrow you can toss the leftovers into chicken broth for a nice, hearty soup. Add a can of white kidney beans and those grape tomatoes you have there in that plastic container just on the edge of pruney.  You won't even notice that the once alien kale has found a cozy berth in your home cooking and even addenda bit of panache!