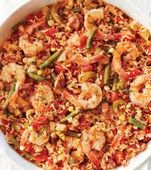 Jambalaya AND a nice Sauerkraut Soup!
Along with a rant about transported vegetables!
There is seriously something wrong with us.   Yes, you too, and even me.  Like lemmings who apparently don't really flock to the brinks of cliffs giddily determined to self-destruct, we are trotting along shoulder to shoulder with the rest of our ilk, hope in our hearts, a song on our lips, and not the vaguest clue where we're going. 
A reporter recently took a can of tuna and a can opener to a university campus, and asked passing bright young things if they could open the can.  Some knew what the can opener was for, but couldn't manage to get it to work. Others didn't even know that much.  Something is seriously wrong. 
There was a bit of a panic recently. Romaine lettuce, don't you know.  E-coli.  There was much wailing and wringing of hands and gnashing of teeth, by golly.  There was even a half-hearted effort to blame Obama. This is a crisis!  Heads must roll! What is government for if not to protect our God given right to eat Caesar salad in the dead of winter?
Turns out, vast fields of leafy greens in California are irrigated by run-off from neighbouring vast cattle feedlots. What could possibly go wrong?  Turns out these e-coli outbreaks are common as drive-by shootings but we only hear about them on slow news days. 
But our children!  Our children must have access to fresh fruits and vegetables!  For their health!  Oh for heaven's sake!  Even children know when raspberries are in season – which is, logically, the time to eat them.  But no!  Fresh fruit and veg must be grown (possibly under dubious conditions) packed in plastic clamshells, hustled 4,000 kilometres by truck to arrive fresh and perky in time to be rejected by mini-Canadian picky eaters and land in our bins. And we question none of this. Something is seriously wrong. 
We live in Ontario, not on the moon.  We grow good things, you may have heard. Megatons of them. And we have the technology to preserve them – by canning, drying, fermenting, and freezing.  " Canned fruits and vegetables are on par nutritionally with their fresh or frozen counterparts. For some produce, the nutrition in canned foods is even greater. Americans are not eating enough produce. ... Excellent health is something everyone can attain".  Fruitsandveggiesmorematters.org
"Researchers at Michigan State University found that canned tomatoes deliver more B vitamins as well as lycopene, a carotene loosely tied to a lowered cancer risk. The canning process also makes fibre more soluble in vegetables such as beans, providing a value-added for the food staple.  Canned vegetables offer consumers a more affordable option at 20 percent of the cost of fresh vegetables — and half as much as frozen". Medicaldaily.com
The information is out there!  The Internet is bustling with proof that someone has led us down the wrong garden path with such wisdom as "Shop only the outer perimeter of the grocery store".  I'm not saying to eschew fresh fruit and veg forever.  When we produce such delights, we should enjoy them in abundance.  But look outside. Give your head a shake. Figure out that wily can opener gadget!
BUBBA'S JAMBALAYA from allrecipes.com:
Ingredients
6 slices bacon, cut into 1 inch pieces
1 cup chopped celery
1 green bell pepper, seeded and chopped
1 onion, chopped
1/2 pound cubed cooked ham
1/2 pound cubed cooked chicken
1/2 pound cubed smoked sausage
2 (14.5 ounce) cans crushed tomatoes, with liquid
2 cups beef broth
2 cups chicken broth
1 teaspoon dried thyme
2 teaspoons Cajun seasoning
2 cups uncooked white rice
1/2 pound salad shrimp
Directions
Heat a large pot over medium-high heat. Add bacon, and cook until crisp. Remove bacon pieces with a slotted spoon, and set aside. Add celery, bell pepper, and onion to the bacon drippings, and cook until tender.
Add the ham, chicken and sausage to the pot, and pour in the tomatoes, beef broth and chicken broth. Season with thyme and Cajun seasoning. Bring to a boil, and add the rice. Bring to a boil, then turn the heat to low, cover, and simmer for about 20 minutes, until the rice is tender.
Stir in the shrimp and bacon just before serving, and heat through. If you use uncooked shrimp, let it cook for about 5 minutes before serving.
If you have an Instant Pot, I'm sure you've already converted this recipe in your head, you wily Canadian, you!
Also beautifully Instant Pot adaptable and taking advantage of the "Whats old is new again" fermentation health craze, how about trying
HAM, BEAN & BACON SOUP WITH SAUERKRAUT:
INGREDIENTS
A drizzle olive or vegetable oil
4 oz lean, smoky bacon, chopped
12 oz ham steak, 1/2" dice
2 Tbsp butter
4 cloves garlic, chopped
2 onions, chopped
2 starchy potatoes, peeled and chopped (about 1 1/2 lbs)
1 large carrot, chopped
1 large fresh bay leaf
4 cups chicken stock
2 lb(s) sauerkraut, rinsed and drained
1 15-oz can white or red kidney beans
Salt and pepper
1 handful fresh parsley leaves, chopped, for garnish
Rye or sourdough bread, to pass
DIRECTIONS
1. Heat the oil in soup pot or Dutch oven. Add the bacon and brown. Remove the bacon, and reserve. Add the ham and brown, then remove and reserve. Melt in the butter, and add the garlic, onions, potatoes, carrots and bay leaf. Partially cover and cook to soften, 10 minutes. Add the stock, 2 cups water, the reserved ham and bacon, the sauerkraut and beans, and simmer until potatoes are cooked and soup flavour combines, 15 minutes more. Season with salt and pepper.
2. Cool completely and store for a make-ahead meal.
3. To serve, reheat over medium heat. Add the parsley just before serving and pass bread at the table.
www.foodnetwork.ca
Canadians traditionally not only cope with winter, but go out and play in it.  If we can't feed ourselves, with all the gifts, resources and resourcefulness of this great country, there is, indeed, something seriously wrong with us!