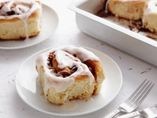 Sometimes it's time for fast food.  
Other times you have time for a lovely, pillowy yeasted dough and the joy that is Cinnamon Buns!
Mr. Ray, a stingray, specifically a Spotted Eagle Ray, is Nemo's teacher in Finding Nemo.  And he is, as all teachers should be, delightful, positive, an enthusiast!  When I first saw that charming movie, Mr. Ray was immediately familiar. He reminded me very much of Mother. Intrepid seeker of what's out there, she would toss us into the red and white 1955 Ford Fairlane, and off we'd go in search of adventure!
In 1957, the first rumbles of the quake that was the 60's were rumbling, Elvis was tantalizing the youth and terrifying their elders, and McDonald's, that harbinger of fast food, appeared in Minneapolis. And so into the car and away we went to check out this new phenomenon! 
Now, Mother made a mean burger and fries, don't think she didn't, so we wondered how she would take to this food revolution.  The premise was neither fish nor fowl – a sort of morphed combination of restaurant and picnic. In a way, it encapsulated the spirit of the era. Easy.  Casual.  Breezy. It implied that people were busy, "on the go".  Like marathon runners being tossed orange slices, or Formula 1 cars needing a frenetic pit stop!  Food is fuel and the important thing is the race! You can easily see fast food as a cultural phenomenon if you contrast it with the traditional European attitude that food is more important than time, that "joie de vivre" entails the ability to properly linger, and savoury, and converse. Of course, this skill was also intended to imply wealth and importance. A status symbol. I'm sure there were many others "hopping to" so that the lingering went off without a hitch. 
But Mother, sitting in that car on that sunny day a hundred miles from home with three bewildered pre-teens at our own little launch party of the cultural revolution, what did Mother think?
"It's good," she declared. "It's not a hamburger and french fries, but it is what it intends to be, and I like it!".  This became a bit of a touchstone for me when assessing anything new. Is it what it intends to be? And Do you like it?  This stood me in good stead in many a gallery of contemporary art, I can tell you. And so the world rocked and rolled, and we rolled right along with it. 
"Eat what you believe to be good," Mother instructed. "Don't waste calories on inferior food".  Fast food can be good, as can haute cuisine. It's that gray area in between where food of low aspirations to begin with lies festering like Eliot's "patient etherized upon a (steam) table" that one shouldn't lower one's standards. Spend calories on food that is what it intends to be and is good, be it street food, fast food, or five star. 
Which brings me to a recent conversation with a friend. "I couldn't make bread (or crepes, or biscuits, or popovers) because it would be too good. I would only eat it". Mother never gave us instructions about how to deal with food that is "too good". She made crepes and popovers and cinnamon buns. For breakfast.  Because, in her estimation, "too good" was not only an alien concept. It was a goal. 
This recipe is pretty close to the recipe for Cinnamon Buns that was known to lure even the most sluggish teen from their bed in the morning. 
Cinnamon Buns from spendwithpennies.com
Ingredients
1 cup milk
2 eggs room temperature
1/3 cup butter room temperature
4 - 4 1/4 cups bread flour (plus extra for rolling)
1/2 teaspoon salt
1/2 cup white sugar
1 package active dry yeast
Filling
1 cup brown sugar packed
3 tablespoons ground cinnamon
1/3 cup butter softened
Frosting
4 ounce cream cheese softened
1/4 cup butter softened
1 1/2 cups confectioners' sugar
1/2 teaspoon vanilla extract
1/8 teaspoon salt
Instructions
Combine 2 cups of the flour and yeast in a large mixing bowl. In a saucepan, combine milk, butter, sugar and salt over medium heat until temperature reaches 120 to 130 degrees (butter will be almost melted). Add milk mixture to flour mixture along with eggs and mix with an electric mixer on low for 30 seconds. Stir in as much of the flour as you can. (see note below for bread machine)
Place dough a floured surface and knead in as much flour as possible. Continue to knead the dough until it is very smooth and elastic (this will take about 5-10 minutes). Cover dough with oil or cooking spray and plastic wrap. Let rest covered for about 15 minutes. Meanwhile, in a small bowl, combine brown sugar and cinnamon and set aside.
Roll the dough into a 18x21-inch rectangle. Spread 1/3 cup butter on the dough and top with the brown sugar and cinnamon mixture.
Starting with the long side, roll up dough so you have an 18" log. Cut into 12 even rolls. Grease a 9x13 inch baking pan and place the rolls in the pan. Cover with plastic wrap and a tea towel or kitchen towel and let rise until nearly doubled, about 45 minutes. Meanwhile, preheat oven to 400 degrees F.
Bake rolls on the center rack about 15 minutes or until lightly browned.
While the rolls are baking, combine cream cheese, 1/4 cup butter, confectioners' sugar, vanilla extract and salt with a mixer until fluffy.
Allow rolls to cool for about 10-15 minutes and spread frosting on warms rolls.
The dough can be prepared in a bread machine. Combine dough ingredients in the order specified by your bread machine. Set on dough cycle. Let dough rest for 10 minutes once completed and continue with recipe as above.
Serve with hot coffee. Linger. Enjoy. 
Sometimes we are on the run, stopping for a fast pit stop, grabbing a bite, doing the drive through thing because we have places to go and things to do.  But other times, we can channel our inner European aristocrat, and take time to let dough rise, inhale the fragrance of cinnamon and baking bread, and to savour the best of both worlds.  We didn't lose something with the arrival of fast food in the 60's, as so often opined. We gained something that is useful, that is what it intends to be and is good. We have only ourselves to blame if we allow cinnamon buns to be lost in the hustle.  We can, after all, have it all.