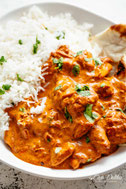 Reflections on how comfort foods hop borders and make themselves at home in our kitchens.
Canadians eat more Kraft Dinner than any other folks in the world. It's the "go to" easy-peasy yumminess waiting patiently for in the pantry like an old friend, at the ready to provide a hug on those days when a hug is required. This is not to suggest that we lock our old friends in our pantries, but you get the idea. Comfort food. 
I once asked a Japanese exchange student about "comfort food" in Japan.  Pizza, he replied, without hesitation. "Delivery?", I inquired. "Of course".  Of course. Well there went another romantic assumption of sticky rice and bits of fish, down the tubes. Though I did ask around and discovered that different countries have their own peculiar favourite toppings.  Though pizza is still pizza, some cultures seem to have taken it rather far off course!
Pizza Toppings from around the World, via hungryhowies.com offered this information:
1. India
Pickled ginger, minced mutton, paneer (a form of cottage cheese), and tofu are popular. Another favourite is "tikka", chicken that has been marinated in a spicy yogurt sauce.
2. Russia
Mockba, a combination of tuna, sardines, salmon, mackerel, red herring, and onions, is popular. This pizza is typically served cold.
3. Brazil
Green peas (what's up with that, Brazil?), corn, raisins, hearts of palm, and hard boiled eggs are popular ingredients.
4. Japan
Eel, squid, and Mayo Jaga (a mix of mayonnaise, potato, and bacon) is are most popular; teriyaki chicken is another well-liked option.
5. France
Also called tarte flambée with bacon, onion, and fresh cream atop a thin layer of dough. This combination originated in Bas-Rhin, Alsace, in the northeast of France.
6. Germany
A popular pizza topping is canned tuna, mixed with other toppings or on its own.
7. Sweden
Peanuts, chicken, bananas, pineapple, and curry powder-topped pizza is a favourite.
8. Pakistan
Curry, chicken tikka, and achari chicken pizzas are all popular.
9. Australia
Ham, bacon, and egg pizza is quintessential breakfast fare, and shrimp, pineapple, and BBQ sauce pizzas are also popular.
10. Costa Rica
Not satisfied with pineapple on their pizzas, Costa Ricans mix it up by adding coconut and shrimp to their pizza.
11. Netherlands
Shawarma (grilled lamb) is a popular topping in the Netherlands along with a "Double Dutch" pizza consisting of double meat, double onion, and double cheese.
12. Greece
The Hellenic pizza includes classic Greek flavours such as feta cheese, oregano, olives, fresh tomato, onion, green pepper, and pepperoni.
13. Portugal
Popular ingredients include linguica, a garlicky local sausage, and chorizo, a Spanish sausage.
14. United States
Pepperoni, sausage, mushrooms, onion, green pepper, and extra cheese are the most popular options.
Say what you will about immigration and globalization threatening our coveted traditions and way of life, where food is involved, we seem to be pretty open minded.  Hello there! Ah! I see you have deliciousness!  Come on in!  
Over time this tendency to adopt the yum of others is seen as part of us. KD is as Canadian as butter tarts. Pizza is Japanese, why do you ask?  Curry?  What could be more British? Though colonization might have been a rather arduous path to dinner. 
The desire for comfort food seems to be an effort to get back to the simple days of our youth when Mother made everything better with a kiss on the owie and a bowl of something tasty and quick. Usually carbs factor in, often cheese, and sometimes a bit of spice to warm the cockles. 
Speaking of which, surely the British, with their long history of bad weather, will have some jolly good traditional comfort food!
So I googled British comfort food, and some things came up, but always at or near the top of the list was Chicken Tikka Masala, leaving Toad in the Hole and Bubble & Squeak running to catch up. That old stand-by, beans on toast, didn't even get on the podium. I tried the following recipe, and oh my!  I was very much comforted!
Chicken tikka masala
From olivemagazine.com
1 Hour  Serves 8 Easy
Britain's favourite dish is a hybrid Indian curry recipe born in the UK. Make sure your chicken gets nicely browned at the edges to add flavour for a fragrant, delicious tikka masala.
Ingredients
chicken breasts 4, each cut into 4-6 pieces
tikka masala curry paste 1 jar
butter
coriander a small handful, chopped
sauces
oil for frying
onion 1, finely chopped
garam masala 1 tbsp
chopped tomatoes 400g tin
tomato purée 2 tsp
sugar 2 tsp
double cream 142ml carton
ground almonds 1 tbsp
Method
STEP 1
Put the chicken in a bowl and add 4 tbsp tikka paste, mix together well and leave for an hour.
STEP 2
Meanwhile, to make the sauce, heat a little oil in a saucepan and fry the onion until it is softened and starting to brown. Add the garam masala and cook for a minute, then add the chopped tomatoes, tomato purée and sugar and bring everything to a simmer. Cook for 10-15 minutes until the tomatoes thicken then add the cream and almonds and simmer for 2-3 minutes.
STEP 3
Heat the oven to 220C/fan 200C/gas 7. Spread the chicken pieces on a rack over a roasting tin and cook for 15 minutes until just cooked.
STEP 4
Add the chicken to the sauce, season with salt and stir in a knob of butter and the coriander.
I used bone-in skin-on chicken thighs because that's what I had on hand. Delicious. 
When the weather outside is frightful, as it certainly has been lately, and we've taken our own stand-by comfort foods out of the pantry one time too often, it is a grand idea to try a recipe that has offered comfort to others in our ever shrinking global world. You might well find it taking up residence in  your pantry, ready, when needed, to offer a warm and spicy, slightly exotic hug. And what could be wrong with that?