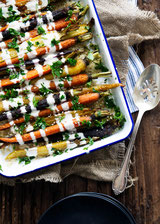 Tahini and Farro are finding their way into our kitchens!!
Assimilation is a process. First, of course, there is resistance.  Stranger danger!  We are programmed, perhaps genetically, to avoid the odd stuff. It could be poisonous. Think of those centuries when it was believed that the poor tomato was out to get folks. Of course, that turned out to be an unfortunate interaction with lead plates, and what was up with that anyway?  When I was but a pup, the only vestiges of controversy were whether the tomato was a fruit or a vegetable, discussed with casual curiosity like something transgender. 
But soon enough, it was de rigueur in any green salad, and made definite in-roads as a soup aside a grilled cheese sandwich.  Before long, with the emergence of the post-war popularity of all things Italian, the tomato became as North American as apple pie.
A similar assimilation occurred with the homely avocado, which noodled its way onto our tables and into our hearts, via Mexico. First there was salsa and then came guacamole!  Once again, we were enchanted, though perplexed. What is this strange creature?  Is it a fruit or is it a vegetable?  Come come, folks!  Have we not moved beyond this?  It's a fruit, by the way, if you're still keeping score.  The avocado became a staple of game night – guacamole with nachos and salsa!  Score! 
But they keep coming, over our borders and onto our shores!  The new!  The strange!  The delicious!  The Europeans! The Mexicans!  And now, good heavens to Betsy, the Arabs!  They seduced us first with their wily baklava!  What next?  We'll, tahini, actually. 
Tahini got a foothold as an essential part of hummus. Ah hummus!  Rich and alluring with its exotic siren song of Scheherazade!  A bit of the familiar, (it is a dip, after all) with its companion, pita, a drizzle of olive oil, and the perfect tangy addition of Kalamata olives. Score! 
Assimilation is a Trojan Horse bearing only gifts. It begins with one application, one recipe.  But before we know it, it becomes a friend, a neighbour, at the ready to liven up our lives with its language, it's music and indeed, with its flavour. 
Let's quit defining, and start celebrating! Multicultural is not a threat, but rather, a gift!  
You can get all you need for this recipe at Cook's Corner, by the way. 
Farro with Cumin Roasted Carrots and Cumin Tahini
https://www.thespruceeats.com/cumin-roasted-carrots-3571988
What You'll Need:
1 cup farro
8 carrots (peeled and sliced in half lengthwise)
2 tablespoons olive oil (divided)
1 onion (peeled and sliced)
1 teaspoon cumin
1 tablespoon fresh parsley (chopped)
Salt and pepper to taste
Cumin Tahini Sauce:
1/4 cup sesame paste
1/4 cup water
1 clove garlic (peeled and finely minced)
1 tablespoon lemon juice
1/4 teaspoon cumin
Salt and pepper (to taste)
How to Make It
Pre-heat the oven to 400 degrees.
Combine 1 tablespoon of the olive oil with the teaspoon of cumin. Peel and slice the carrots and toss them in the cumin oil. Place on a baking sheet lined with parchment paper, season with salt and pepper and roast in the oven for 30 minutes.
Bring a large pot of salted water to a boil. Add the farro, cover, reduce the heat to low and simmer for 20 minutes. Drain and return to the pot.
Add the remaining tablespoon of olive oil to a skillet or cast iron pan along with the sliced onion. Saute for a few minutes until the onion is soft and a light golden brown. Stir the sauteed onion into the cooked farro.
Make the cumin tahini sauce by combining the sesame paste, water, minced garlic, lemon juice and cumin in a bowl. Whisk until smooth and season with salt and pepper to taste.
To serve, spoon the farro and onion mixture onto a platter, top with the roasted carrots and drizzle with the tahini sauce.
Enjoy!
Dessert?  Or with tea? Try this beauty of a recipe from HouseandHome.com!
Tahini Shortbread Cookies
Ingredients:
10 tbsp unsalted butter, at room temperature
3⁄4 cup icing sugar
1 cup tahini, stirred
1 1⁄2 cups all-purpose flour, plus more for dusting
1⁄2 cup rice flour
1 tsp kosher salt
For the Icing:
1 1⁄2 cups icing sugar
2 tbsp water
1⁄2 cup edible dried rose petals
Seriously. You'll make these again and again.
Foods, like people, may appear strange and foreign at first.  We dip our toes in unfamiliar waters carefully. No plunging headfirst. It is strange and new. It could be dangerous. We try it once. No harm. 
In fact, fabulous!  It becomes familiar. Soon we branch out.  Try new applications. Before we know it, assimilation has happened.  Pho soup!  Lychee nuts! As North American as apple pie!  As Canadian as butter tarts!  We are just a bit braver. And our lives are just a bit richer. As we look forward to the next invaders on our culinary shores.  Welcome!  What's for dinner?