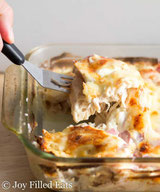 Although casseroles have fallen out of favour in recent decades, they can still be a home cook's trusty friend!
When someone died in our home town, Alice Stolte turned on her oven.  In her pantry, on a designated shelf, she kept the ingredients for a casserole that was ready by the time she hitched up her girdle, donned a neatly ironed "shirtwaist" dress, and added a slash occasion-appropriate lipstick. Casserole in hand, she headed off to tend to those in need of condolence and, presumably, sustenance. Her casserole was hot before the body was cold. 
Housewives in the day, had an assortment of trusty recipes in their heads that guaranteed an enthusiastic response from the family. When freezers came along, they soon discovered that casseroles freeze a treat when cobbled together and ready for the oven!  Prepare, cover with foil, freeze, bake and serve on those days when the meeting of the ladies' volunteer for whatever group ran long. 
We assume that the casserole was invented by the Campbell's Soup company, and was somehow a means of keeping women from escaping the dreary reality of housewivery.  But not so.  The concept of the one pot meal has a long and noble provenance. 
Casserole (n.). 1706, "stew pan," from French casserole "sauce pan" (16c.), diminutive of Middle French casse "pan" (14c.), from Provençal cassa "melting pan," from Medieval Latin cattia "pan, vessel," possibly from Greek kyathion, diminutive of kyathos "cup for the wine bowl." Originally the pan; by 1889 also of the dishes cooked in it, via cookery phrases such as en casserole, à la casserole.
So the casserole, contrary to popular belief, was not, or not only, the workhorse of the fifties. It goes way back to long before the cans of Cream of Mushroom. Or Cream of Celery.  But those soups did provide a tasty shortcut for busy housewives like Mrs. Stolte. 
And then along came the sixties. Many a baby was thrown out with that bathwater!  Somehow, everything comfortable and familiar was seen through a lens of ennui. Embarrassingly provincial. We became aware of Provence and Haight Ashbury. We were cool. Bread couldn't be bread. It had to be baguette. A doughnut was so yesterday. It had to be beignet.  We were not only cool. We were insufferable. The "Hot Dish" or casserole became a symbol of everything that we felt needed changing. 
But it is the way of pendulums to swing. We have seen the world. At least on our laptops and tablets. We have tasted the culinary delights of the great wide world. And if we're honest, we'll have to admit that some of those classic casseroles of days of yore were, in fact, a dandy way to produce a weekday meal that was inexpensive, nutritious and, yes, delicious – all essential for a culinary workhorse worth its hay!
It might be time to get those trusty work horses back in harness!  Oh, I'm not saying every day. We've moved ahead from the "Hot Dish" as an everyday "go to" but let's not completely abandon the quick and easy, kid friendly recipes of yore for those days when you just want to sit this one out!
They tend to the bland, an indication that our palates have, indeed, evolved.  So you may want to give the old recipes a modern spin with the addition of herbs and spices, but there's nothing wrong with that. 
Try:
Chicken Cordon Bleu Casserole
Ingredients
3 cups cubed cooked chicken
4 ounces sliced deli ham, chopped
3 cups broccoli florets
1 cup shredded Swiss cheese
1 can (10 1/2 ounces) Campbell's® Condensed Cream of Chicken Soup
1/4 cup dry white wine
2 tablespoons butter, melted
1 cup plain panko (Japanese-style bread crumbs)
How to Make It
Step 1
Set the oven to 350F.  Lightly grease an 8x11x2-inch baking dish.
Step 2
Stir the chicken, ham, broccoli, cheese, soup and wine in the baking dish.  Stir the butter and panko in a small bowl.  Sprinkle the panko mixture over the chicken mixture.
Step 3
Bake for 30 minutes or until the panko mixture is browned and the chicken mixture is hot. 
OR how about:
Mac 'n Cheeseburger Casserole
Ingredients
1 lb (454 g) lean ground beef
2 cups (500 mL) sliced mushrooms
1 cup (250 mL) multicolored bell pepper (green, red, yellow),
1/2 cup (125 mL) chopped celery
1/2 cup (125 mL) chopped onions
1 can stewed tomatoes, undrained
1 can CAMPBELL'S® Condensed Low Fat Cream of Mushroom Soup
2 cups (500 mL) uncooked whole grain elbow macaroni
2 tbsp (30 mL) Worcestershire sauce
1 tbsp (15 mL) chili powder
1/4 cup (60 mL) shredded sharp Cheddar cheese
Directions
Cook beef until browned at medium-high heat in large non-stick skillet. 
Add mushrooms,peppers,onions,and celery. Cook and stir for 3 minutes.
Place mixture into shallow 2 qt (2 L) baking dish. Stir in all other ingredients, except cheese.
Bake covered, at 400 °F (200 °C) until pasta is tender – about 50 minutes.
Stir. Sprinkle with cheese and let stand 5 minutes before serving.
The recipe Alice Stolte had at the ready for the moment when her friends and neighbours slipped off this mortal coil, is lost in the fog of memory, (though I'm guessing tuna was involved) but I have no doubt in my mind that it was delicious, appreciated and contained a can of Campbell's Cream of something or other.