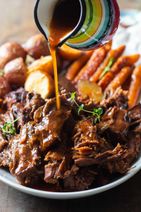 The first day of school is the first day of the queen of comfort food, the pot roast.  Just be sure to use a cut that is not too lean.  Other than that, it's hard to go wrong.  We all remember coming home from school to the smell of this deliciousness as our soft landing.
The last day of school in the spring is the unofficial first day of summer, whether we are personally affected by this special day or not. Kids have been sprung and are running loose with not a care in the world. 'No more pencils, no more books. No more teacher's dirty looks'.  No matter how old we become, we still remember that totally unfettered, untethered feeling. Although, once those school days and years are over, we can never have that sensation again. When we walk away from school for that last, exhilarating time, we walk head-on into adulthood, and there's no turning back. Oh we take holidays in an attempt to recapture the mood, but we also have to budget for them.  And worry about whether the kids are alright. There's still the mortgage. And work awaiting our return to reality. 
So that special day, the last day of the school year, the first day of summer, still resonates with us all, tinged certainly with envy. 
And just as the last day of school is the first day of summer for us all, so too is the first day of school also the first day of summer's over, no matter how vehemently we deny it.  Signs are everywhere. Facebook is awash with freshly scrubbed faces in starched new outfits staring bravely at the camera looking a bit like new recruits trapped by the draft.  It's over. They know it, and so do we. The season of plaid is upon us. Long pants start to appear in the evenings. Socks. Nights fall to single digits. Cicadas. Soup.  
Winter is for adults. We have responsibilities.  Things need doing. Harvest for one thing, for the intrepid farmers and gardeners among us - with all the sturm and drang that that entails. Putting things away in anticipation of the invariably predicted "hard winter".  Battering down and stocking up.  We're northern folk after all.  We walked to school in howling blizzards. Uphill. Both ways. 
So with the first day of school on the horizon, parents steel themselves for those morning battles of getting reluctant offspring up and at 'em, managing obscure homework assignments while bribing with screen time, and taking on the perpetually unsung task of making lunches, ultimately, at the end of the day, justifying pizza take-out as a means of survival.  
The rest of us begin to braise. 'Tis the season. 
Wikipedia: Braising (from the French word braiser) is a combination-cooking method that uses both wet and dry heats: typically, the food is first sautéed or seared at a high temperature, then finished in a covered pot at a lower temperature while sitting in some (variable) amount of liquid (which may also add flavour).  Delicious and warming to both home and heart – though not generally an easy sell to those pizza-munching offspring. Every culture has mastered the braise so there's a braised something recipe out there to suit any hankering. Familiar examples are pulled pork, boeuf bourguignon, and butter chicken. Or did your grandmother make that extraordinary pot roast that involved an envelope of onion soup mix?  Come on!  The very thought of those rich, tantalizing flavours of the braise into fall is enough to get you over the hump of the first day of school!
Meat is a bit pricey, we have noticed, but there's often a special on beef chuck roast.  Here it is! Grandma's classic. And it's easy. Time does most of the work. Even the kids like this one. 
3-Ingredient Crock Pot Roast
INGREDIENTS
1 5-6 pound chuck roast
1 package dry onion soup
2 cans cream of mushroom soup
DIRECTIONS
Place chuck roast in crockpot
Sprinkle package of dry onion soup
Pour cream of mushroom soups over top
Add 1/4 to 1/2 cup of water (the more water, the thinner the gravy)
Cook on low for 8 hours
Once finished cooking, shred to desired texture and serve immediately.
Dark beer instead of water adds an extra bit of yum.  And some sprigs of fresh thyme. If you have some. 
Adapting this recipe to your Instant Pot is a no-brainer:
Season the beef as desired.  Heat the oil in a 6-quart stovetop pressure cooker over medium-high heat.  Add the beef and cook until well browned on all sides.  Remove the beef from the cooker.  Pour off any fat.
Stir the mushroom soup, onion soup mix, potatoes and carrots in the cooker.  Return the beef to the cooker with enough water or beer.
Close and lock the lid.  Bring to full pressure over medium-high heat, then reduce the heat to medium-low.  Cook for 1 hour.
Do not open the cooker until the pressure has dropped.  Season to taste.
Serve with mashed potatoes and seasonal vegetables.  If you want to go full-on granny, use a box of instant mashed.  Go crazy. Adulting is hard but it doesn't have to be gruelling.