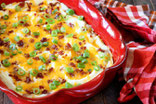 There are times when doing everything "from scratch" is not required.  One of those occasions is Thanksgiving when you are swinging a complex dinner for a crowd and you don't have staff.  Consider this excellent Mashed Potato Casserole with boxed potato flakes!
---
Thanksgiving is a especially anxiety inspiring for people who are convinced that they can't cook. At all.  The hoped for answer to, What can I bring? is wine, or pickles!
It seems a simple sentence. I can't cook. But what do these folks mean by it?  I have no problem understanding "I" and "can't" but where I get wondering is what they mean by the word "cook".  Surely, if push comes to shove, they can master KD, or make a ham sandwich, pour milk on cereal, or slice an apple to serve on a small plate with a bit of old cheddar.  Surely they can do that.  And if they have those basic skills they have a solid start.  
People, somehow, have a definition of the word "cook" that they picked up somewhere in their youth and that is now firmly lodged in their heads.  Perhaps it was their grandmother who created magical deliciousness when they went for a visit. Perhaps it was Home Ec. class which they skipped just one time too many until that boat had sailed.  Maybe they stumbled upon the flash and dazzle of the Food Network with its exotic ingredients and nerve rending competitions. Or restaurants with an enticing selection of options that are made to magically appear in exchange for rather a lot of cash. 
The truth of the matter, however, is that much of "cooking " is simply assembling.  And that is an excellent place to get your bearings. 
Salads are a good example of assembly cooking. Once you have some greens and a few bits and bobs, you can add a starch, some pasta (you've made KD so we know you have pasta mastered) rice, quinoa, lentils or chickpeas, add some cooked chicken that you picked up at the store and you've created a satisfying, nutritious and tasty complete meal. You're cooking! 
When you go out to a restaurant, study the menu, not just to decide what to order, but to get some ideas of what you might want to get up to at home.  A salad with mixed greens, pickled beets, pineapple and feta cheese?  Why not? Toss in a bit of that leftover ham? Now you're getting the idea!   
Assembling also works in the world of soups.  The basis of just about every salad is something green. And the basis of just about every soup is a flavourful broth – which you can buy, either canned or concentrated.  Now you can begin to add a bit of this (that grocery store chicken?)  and that (check out your veggie drawer) and heat!  Sure you are cutting a few corners, like buying a cooked chicken and the broth, but corners are always cut.  You won't get to heaven any faster by raising, killing, plucking and roasting your own chicken. It's just dinner. And you are cooking it, corners and all!  
Look at recipes with a raised eyebrow. How many of them are just assembly jobs? Probably most. And speaking of that corner cutting, one of my friends was, for many years, reluctant to share her famous mashed potato recipe that she often toted to holiday feasts to rave reviews.  When she finally did fess up, we all followed her lead into the wonderful world of instant mashed potatoes!  The following recipe is from www.southernbite.com but a google will find you many a tasty variation or just go rogue and figure it out on your own!
Shortcut Loaded Mashed Potato Casserole
Servings: 8 to 10 servings Author: Stacey Little | Southern Bite
Ingredients
2 - (24-ounce) packages Simply Potatoes Traditional Mashed Potatoes (about 5 cups) – or whatever brand
1/2 cup sour cream
1/2 teaspoon onion powered
1/2 teaspoon garlic powder
1 cup shredded cheddar cheese divided
1 (2.8-ounce) package crumbled real bacon (about 3/4 cup), divided – or fry up some bacon
2 green onions thinly sliced
Instructions
Preheat the oven to 350°F and lightly spray a 9x13-inch baking dish with nonstick cooking spray. Heat the mashed potatoes according to the package instructions.
In a large bowl, combine the mashed potatoes, sour cream, onion powder, garlic powder with about half of the cheese and half of the bacon. Mix well. Pour the mixture into the prepared baking dish and sprinkle with the remaining bacon. Bake uncovered for 25 minutes.
Remove from the oven and top with the remaining cheese. Return to the oven for about 5 minutes or until the cheese has melted. Sprinkle with the green onions and serve.
If you are convinced that you can't cook, you are definitely wrong.  And if, heaven forfend, you're stuck hosting Thanksgiving, you're going to be fine.  Rule one is to say yes to anyone who offers to bring!  Forget roasting Big Bird. Get a reasonable sized bird and don't overcook it. If you need more meat, pop a ham in the oven alongside it. Make those mashed potatoes.  A can of cranberry sauce. Assemble a creative salad earlier in the day. Trot off to the store for some buns and a New York style cheesecake.  At dessert time, plate that cheesecake up in the kitchen and spoon on a sauce of thawed frozen mixed berries drained and mixed with apricot jam (Do this yesterday).  Garnish with a few fresh raspberries and a sprig of that mint running rampant in your back yard for a bit of, "Of course I can cook" flair. 
Voila! You've assembled a perfectly lovely meal without knocking yourself into a cocked hat.  Remember, assembly counts, and everything is a cheat unless you killed the bird yourself.