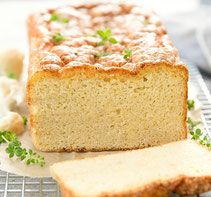 This blog post is all bout eating healthy.  Apparently you can make bread with cauliflower.  Who know?
Everything you eat these days will kill you.  Food selection is like a hop, skip and a jump though a mine field. Sugar will kill you.  Salt will kill you. Fat will kill you.  Carbs will kill you. Cheese will kill you. Processed foods will kill you. Meat will kill you – and take out the whole planet in the process of doing you in.  
What's the proof?  Our ancestors ate all of these things, and they're all dead. Hard to argue with that. 
The general consensus is that a low fat, low sugar, plant-based diet is the path to immortality. Hooray. We have an answer!  
So what's the problem? Every single one of the forbidden fruits is a flavour delivery device.  Oh sure, we've tried to cheat.  But fake fats will kill you, artificial sweeteners will kill you, and the jury's definitely out on fake meat. Cauliflower has been touted as the knight in shining armour that will save us from ourselves. Cauliflower pizza base, cauliflower sushi, cauliflower rice, cauliflower cake. But will cauliflower ultimately die on the culinary battlefield with the former fallen – zucchini, kale and anything fermented? 
We look with longing at photos of a heaven of forbidden fruits: Italians, (as a rule), lingering in lush, sun-drenched settings, gathered around rustic tables groaning with breads and meats and pasta dishes, glasses of wine in their hands, green hills and olive groves shimmering in the background and sun on their smiling faces. We dream of their simplicity, their joie de vivre, their food. 
If you want to be a successful hostess, make bread. No one really cares about anything else.  Well, butter.  I always hear things like, "I only allow myself one slice of bread a week". "If I had "good" bread around, I'd eat it till I passed out!"  Of course they wouldn't.  They've just been living in a cave subsisting on twigs and grasses for so long that they would lose their grip for a while there. But think of the French.  Those good folks consider bread a necessity of life and have the most spectacular breads in the world at their slender fingertips, yet manage restraint.  I'm promoting a theory that constantly flipping between self-deprivation and bingeing on chicken wings is causing gastric confusion, anxiety and an added burden of guilt to carry with us to our graves.           
So for those noble folks who yearn for long lives of self-deprivation, and who are seeking the holy grail of having one's bread and eating it too, I offer the following:
CAULIFLOWER BREAD! 
https://kirbiecravings.com/cauliflower-bread/
INGREDIENTS
3 cups cauliflower finely riced
6 large eggs separated
6 tbsp canola oil (use olive oil if making paleo)
1 ¼ cup superfine almond flour
1 tbsp baking powder
1 tsp salt
INSTRUCTIONS
Preheat oven to 350°F. Line an 8 inch by 4 inch loaf pan with parchment paper.
Microwave cauliflower for 3-4 minutes or until tender. Allow cauliflower to cool. Once cooled, place a small amount in a tea towel and wring dry. Repeat with remaining cauliflower, working in small batches.
Add egg whites to a mixing bowl. Beat at high speed until stiff peaks form. Set aside.
In a large bowl, combine eggs yolks, oil, almond flour, baking powder and salt. Mix until a smooth paste forms. Stir in the cauliflower until evenly mixed.
Add about ¼ of the egg whites to the paste. Use a spatula to fold in the egg whites, When egg whites are completely folded in, add in another batch of egg whites and repeat until all egg whites are incorporated. The mixture should look pale and fluffy. Be careful not to beat the egg whites because that will cause them to lose the air whipped into them and the bread will not properly rise.
Pour batter into prepared loaf pan. Bake for about 45-50 minutes, or until bread is done. Allow bread to cool before slicing.
NOTES
If you are making a paleo version of this recipe, substitute the canola oil with olive oil and use a homemade paleo baking powder.
Rice the cauliflower until it resembles coarse crumbs. You want the cauliflower to be finer than if you were making a cauliflower rice dish.
If you do not wish to use the microwave to cook the cauliflower, you can steam it before drying.
I intentionally made a plain loaf because I wanted something similar to white bread. However, you can easily make this bread more flavourful by adding other toppings like shredded cheese, fresh or dried herbs. If you are adding toppings to flavour the bread, add them when you add in the cauliflower.
Recipe adapted from delish
NUTRITION
serving: 1slice, calories: 204kcal, carbohydrates: 6g, protein: 7g, fat: 17g, saturated fat: 1g, cholesterol: 98mg, sodium: 285mg, potassium: 301mg, fibre: 2g, sugar: 1g, vitamin a: 145iu, vitamin c: 23.1mg, calcium: 107mg, iron: 1.3mg, net carbs: 4g
The struggle is real, probably even for the fashionable French and the basking Italians. Perhaps our culture predisposes us to a feast or famine mentality, and they have somehow found the middle lane.  I don't suggest that I have the answer.  My good mother was known to say, Don't waste good calories on store-bought cookies. 
I have not made that cauliflower bread, by the way.  I just feel that I've done my best to support the deprived.   If you try it, let me know how it is!  I'll enjoy reading your report while tempting fate enjoying a nice slice of fresh bread and jam with my tea.