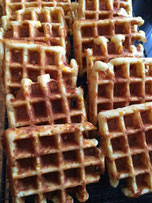 This is one of those recipes that just sort of evolves.  Sweet corn, Asiago Cheese, melted butter, eggs, Bisquick.  Hot pepper flakes.  A bit of salt.  
Click on "Read More" for the entire journey that became these waffles!
---
Sweet corn Asiago waffles
Ok. It's like this. Last summer we had way more sweet corn than we needed for a party. So we cut the corn off the cobs and froze it in ziplock bags. Maybe a pound each bag or so.  Canned corn would work fine. Drain. 
So today I stumbled across a recipe for corn fritters. Well, I tend to like things on the crispy side, so I thought - waffles!  
And I pulled out my cheapo Big Boss As Seen on TV waffle maker. 
I also remembered having dinner at a brilliant friend's house and she served corn, Asiago bread pudding. So amazing!  So I thought Asiago!  And I happened to have some grated, in my fridge. Any cheese would do. Cheddar would be nice. 
So I put the corn and the cheese in a big bowl. I got out my favorite trick - Bisquick!
I'd say roughly equal parts corn, Bisquick and cheese would be ideal.
I threw in maybe a tablespoon or so of hot pepper flakes, because I like a bit of a kick.
I added three eggs, to keep the waffles nice and tender.  
I added just a drizzle of maple syrup. For depth. 
When I stirred it all up, it was a bit dry, so I added a good splash of milk. 
A teaspoon or so of salt. 
I melted half a stick of butter and tossed that in as well.  
Now I had a good, thick batter.
I put it on the waffle maker.  Eight minutes. Good. 
I would have preferred more cheese, but really good anyway.
So I kept making batches of waffles until the batter was gone.
Cool on a wire rack.
Put in bags. 
Freeze.
To serve, take one or however many you want, out of the bag.   
Toast to heated through and crispy. 
There ya go!
One of these would be fine with an egg on top.  Maybe a few strips of bacon on the side. Or breakfast sausage. 
Maybe some maple syrup.
Sounds good. 
Maybe I'll try that.
Bottom line: Just bash around with stuff that's good. It's bound to make a nice waffle. Proportions aren't at all critical. That's the nice thing about waffles. 
---