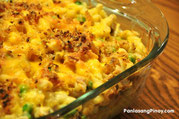 A reflection on food trends - and a recipe for tuna casserole!
---
There is a painfully sweet phase of adolescence in which young folks declare their independence, their uniqueness, by following the trends of every other adolescent declaring their uniqueness and independence. Easy for us to chortle at the various piercings and tattooings of the youth of today. They would chortle right back if they could see us as we were at their age.  
Yes, I'll admit that I ironed my hair in a determined effort to imitate Mary Travers of Peter, Paul and Mary fame.  That is until I was confronted with even the slightest hint of humidity at which point my "do" swelled alarmingly in all directions. Saved by the great and unkempt Janis Joplin!  Of course, there were the bell bottoms and embroidered war-torn jean jackets, the pounds of love beads, the granny glasses. Oh yes, we did indeed declare our uniqueness, our individuality - en masse!  Only in retrospect do we see that we, each and every wondrous one of us, were but cookies cut from the dough of our generation. Everything we wear, every tune we hum, every hairdo we don or hemline we sport, every bite we eat is, at some level, determined by the prevailing winds of marketing buffeting our lives. 
As an early boomer, it seems that I'm always on the cutting edge of the next trend. No matter how hard I try for that elusive goal of individuality.  I am, perhaps, subconsciously susceptible to the first subliminal rumblings of the next trend.  Some years ago I purchased a baker's rack. Who had ever heard of such a thing?  How unique! A short time later they were everywhere!  Even a designated store for baker's racks!  When we built our house, I radically chose a color scheme of dusty rose and teal!  Such a departure from the rusts and gold's all around me. Well, I don't have to tell you how that one ends!  
And so it is in my kitchen. Bake pizza at home!  Along with the rest of the lemmings!  Pasta! Right. Baguettes. Waffles. Sourdough! Trends appear magically, and just as magically disappear. 
When I see a recipe from days of yore,  I can spot an ingredient or two, and put my finger on the pulse of its decade.  You try it. Garlic salt. Lime gelatin.  Maraschino cherries. A-1 sauce. Onion soup mix. Marshmallows. Canned mushroom soup.  Pistachio pudding mix. You guessed it!  We're in the sixties!  The very products available in the stores are driven by these trends. 
Even fruits and vegetables, bless 'em, are subject to the vagaries of those titillating, trendsetting celebrity chefs. Watercress is the newest darling as kale fades into the wings.  A carrot has to be heritage or she may as well wilt, sadly orange, in the back of the veggie bin.  Celeriac is on the cusp, in spite of or perhaps because of her homeliness. Zucchini jumped the shark with Zucchini Chocolate Cake.  Some efforts are being made to restore previously trendy veggies to their former glory. Martha Stewart tried to resuscitate iceberg lettuce, sadly, to no avail.  Romaine is déclassé, although Nigella is trying to give it a boost by roasting it.  Radishes, the wall flower of the relish tray?  She's roasting them too!  
It seems impossible to break free of the waves of trend upon which our wee boats float, but, like those defiant adolescents of every generation, we continue to try.  And, although we may not succeed, we can be comforted by the thought that, to those who love us, we are, each and every one, unique in all the world. 
Tuna Casserole with thanks from Campbell's Soup, of course, for a bit of time travel:
2 cans  (10 1/2 ounces each) Campbell's Condensed Cream of Mushroom Soup 
1 cup milk 
1/4 cup chopped pimiento (really)
2 cups  frozen green peas 
2 cans (12 ounces each ) tuna, drained 
6 ounces medium egg noodles (1/2 of a 12-ounce package), cooked and drained (about 4 cups) 
2 tablespoons plain dry bread crumbs 
1 tablespoon  butter, melted 
Heat the oven to 400°F.  Stir the soup, milk, pimientos, peas, tuna and noodles in a  2-quart casserole.  Stir the bread crumbs and butter in a small bowl.
Bake the tuna mixture for 30 minutes or until hot and bubbling.  Stir the tuna mixture.  Sprinkle with the bread crumb mixture.
Bake for 5 minutes or until the bread crumb mixture is golden brown.
Ah! Those were the days!