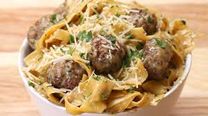 We wear approximately 20% of our clothing 80% of the time.  And in our kitchens...
We wear 20% of our clothing 80% of the time. How often have we heard this? Certainly very. And embedded in there somewhere is a note of criticism.  We take offense. We feel accused of sartorial laziness. We make resolutions.  "I really need to vary my wardrobe". "I do, indeed, wear too much black" or "When did these trusty 'go to' jeans get all floppy bottomed and stringy hemmed?"  We plunge into the dark corners of our closets with resolve! Let's "shop our closet" and try on some of these seldom worn items!
Therein lies the problem!  We have not a modicum of regard for a jolly good percentage of our wardrobe!  Far from sparking joy in our hearts, these ghosts of great sales past spark only dismay. "What could I have been thinking?"  And perhaps a niggling fear that hoarding might be a threat that needs to be nipped in the bud. We resolve to relegate many of these items to the giveaway bag.  Others to total discard, with a moment of gratitude that we haven't died and left them to be discovered by horrified loved ones!
We resolve to change. Television daytime "make over" shows feature an endless parade of frumpy women (the audience makes sympathetic noises) who, within an hour are transformed into paragons of style. "Oh my!" effuses the gob-smacked hostess, "I hardly recognized you!  This is truly amazing! How do you FEEL?"  The audience applauds maniacally. Everyone is happy happy. 
That's exactly what we need!  The very ticket!  We need dresses, I say dresses, and spiky heels, false eyelashes, contact lenses, and statement necklaces!  We need a makeover!  We resolve not to wear the tired old 20% but to branch out! This is the answer! 
Wait a minute. Slow down! Isn't this how we acquired the 80% that we just packed into the giveaway bag, in the first place?  In real life, where would we wear such dresses?  And three-inch heels? Seriously?  We gaze at our stack of old stilettos and dusty handbags that were intended to elevate us to the ethereal realms of those who wear eyeshadow and pearls as they strut down the high street with panache.
Fluttering back to reality, perching on the edge of the bed which is now littered with indecisions, we begin to come to terms with the fact that we wear the 20% because they are sensible choices that suit our lifestyles and our accustomed level of strut. 
Maybe a new pair of jeans, and runners, and a few unstained t-shirts every now and then. But reason should prevail. We know where that eyeshadow will end up. We choose what we wear because it works. 
Recently, I read an article about the habits of highly successful people. One trait struck me as comforting. Highly successful people tend to wear the same thing every day and for almost all occasions. Steve Jobs wore jeans and black mock turtlenecks every day!  Mark Zuckerberg, founder of Facebook, says he wears the same gray t-shirts and jeans every day because he doesn't want to waste time on frivolous decisions so he has more time to spend on real work. Barack Obama shares this view. With all the decisions he has to make, he doesn't want to add "what suit to wear" to his to-do list. 
That's it! That's me!  How refreshing! How liberating! I'm free to wear the same uniform of jeans and a t-shirt every day!  I'm not a lazy frump muffin! I'm a decision maker!  I'm efficient!  I have my eye on the big picture!  
Now that I've broken the fetters of fashion, I can focus on the important things – like coming up with something tantalizing at every meal!  Alas, like so many with the best of intentions, most folks end up preparing 20% of their culinary repertoire, 80% of the time!  Cooking shows and magazines exhort us to "shake up our tastebuds!"  Try something different! And, yes, you know that I will encourage you to "kick it up a notch!"  
But before you berate yourself, maybe you should give some thought to your reasons for doing what you do. If you have kids, you have probably long ago abandoned your resolve to create mini-gourmands who will "eat everything " and are just grateful to have found five foods that they will eat without protesting as though they're being waterboarded. And your spouse has probably made preferences clear enough. You know what will get your troops successfully through the day without actually risking malnutrition.  And, as with our clothing choices, there is surely a way to put a positive spin on it!  It's quick, palatable, accessible, and frees you to for other greater pursuits like solving climate change, global poverty, and dealing with that pesky world peace problem. 
I found this on Facebook.  It has all the earmarks of a trusty "go to" recipe!  Google it. There's a video!
ONE-POT SWEDISH MEATBALL PASTA DISH
INGREDIENTS
Serves 4
1 pound ground beef
½ cup seasoned breadcrumbs
½ finely minced onion
1 egg
½ tablespoon salt (for meatballs)
½ tablespoon pepper (for meatballs)
2 tablespoons canola oil
2 cups beef broth
2 cups milk
½ tablespoon salt (for sauce)
½ tablespoon pepper (for sauce)
1 tablespoons Worcestershire sauce
4 cups uncooked egg noodles
1 cup shredded parmesan cheese
½ cup chopped parsley
PREPARATION
In a large bowl, combine the ground beef, breadcrumbs, onion, egg, salt, and pepper, mixing until evenly combined. Heat the canola oil in a pot over medium-high heat. Take about a golf-ball size of the meatball mixture and roll it into balls. Place the meatballs into the pot, cooking for one minute. Flip the meatballs.
Add the beef broth, milk, salt, pepper, and Worcestershire sauce and give it a stir. Bring the liquid to a boil, then add the egg noodles. Stir constantly until the pasta is cooked and the liquid has reduced to a sauce that coats the noodles, about seven to eight minutes. Add the parmesan and the parsley, stirring until the cheese is melted. Serve!
This might well find its way onto your 20% list!