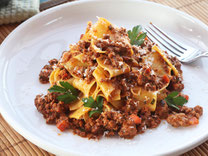 Bolognese Sauce, Canadian style.  If every Italian can have their own version of Bolognese sauce, why can't we?
As summer gives way to spectacular Fall, Canadians reveal their true colours as surely as do the maples. Some embrace the seasonal change with irritating enthusiasm.  And then there are the grumpy and depressed, of course.  You know them. Those who keep fighting the inevitable long after the war has been lost.  The sudden jolt of darkness when we "fall back" to standard time is just about the last straw for those folks! Yet others pack up and hot-foot it south at the first cool breeze and red leaf only to reappear for Victoria Day celebrations. Bon voyage!
But, love it or leave it, just as the leaves turn colour and the breeze turns cool and soggy, Canadians who remain begin a fascinating transformation. Some "from away" describe it as hibernation. Crops are harvested, gardens are dismantled, stacks of wood pile up near houses, tall stakes are placed strategically on lawns to remind the unwary of where the driveway is buried. Barbecues and swimming pools are tucked away.  Shorts and sandals give way to bizarre combinations – shorts and parkas, sandals and tuques.  
Canadians do not go gentle into that good night. They fight to the last ditch before finally retreating, with resignation and yes, some anticipation, into their cozy homes to enjoy the shift from all those cold salads, to the braised, long simmering complexity of winter food enjoyed with friends who come in, melting, dripping, smelling vaguely of wet wool, revealing themselves in layers, like onions, bearing bottles of wine and big smiles. 
They are greeted by the heavenly smell of a sauce, cooked low and slow for most of the day in anticipation of their arrival. Call it mirepoix or sofrito, we reconvene the magical trio of carrots, celery and onion to create many a fine long-simmered, redolent dish to take to edge off depression and dream, maybe of Italy as our parkas and boots drip dry in the back kitchen. 
Bologna, Italy.  Bolognese sauce, or what the residents of Bologna refer to as Ragu.  Apparently everyone there has their favourite recipe, but in Canada, we do what we do best – adapt the recipes of the world to our ready ingredients and our tastes.  Instead of using the traditional pork and beef or veal, I recently bubbled upon a batch of "Ragu" with ground bison and venison sausage. 
Note that this is not a tomato sauce. It's a meat sauce. The only tomato is the small can of tomato paste. So don't be surprised if it doesn't look like the jar of "Ragu" in the store. 
You can be fussy and do this in stages, or just chuck it all in to your slow cooker and see what you've got when you get home from work.  
INGREDIENTS
All these things can be blitzed together in your food processor if you have one. It's all going to cook down to a sauce in the end anyway. 
2 fat onions, finely chopped
4 celery ribs, finely chopped
3 medium carrots, finely chopped
5 garlic cloves, minced
Put into your slow cooker or heavy pot. 
Then add:
1/4 cup extra-virgin olive oil (leave out if you're following my suggestion of adding that jar of Muffuletta)
1/4 pound pancetta or slab bacon, ground by butcher or thinly sliced and pulsed in food processor until finely chopped
1 pound ground veal (Here I used bison)
1 pound ground pork (not lean) (Here I used that venison sausage)
1 (6-ounce) can tomato paste
1 cup whole milk (I didn't)
1 cup dry white or red wine (ok. I used dark beer)
A few cups of beef broth. I used one of those cartons they have at the store. 
1 teaspoon fresh thyme leaves – I didn't have any... I sprinkled liberally with "Italian Seasoning"
1 1/4 teaspoons salt - omit if using a salty broth. 
1/2 teaspoon black pepper. Ok. I used way more. "To taste"
I also tossed in a that jar of Muffuletta – Italians would be horrified, but I thought it added a nice kick. 
PREPARATION
Cook onions, celery, carrot, and garlic in oil in a 6- to 8-quart heavy pot over moderate heat, stirring occasionally, until softened, about 5 minutes.
Add pancetta, veal, and pork and cook over moderately high heat, stirring and breaking up lumps, until no longer pink.
Stir in everything else and gently simmer, (225 if you're doing it in the oven) covered, until sauce is thickened or all day on low in your slow cooker. Remember that one of your goals is to make your house smell like heaven or at least Italy, which is close enough.  Add salt and pepper and remove from heat.
Serve over (preferably homemade) Fettuccini or other thick sliced noodles. And lots of that freshly grated Parmesan!
So good. Really. 
Sauce may be made several days ahead and cooled, uncovered, before chilling, then covered. Invite lots of friends to join you in celebrating the season!  Leftovers? I like to freeze in packets using my Food Saver. To brighten up future long winter nights.