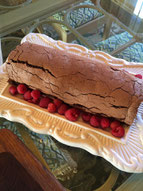 This is a bit of a trick because it takes a lot of whisking and maneuvering, but it is really worth the fussing!  I like to add raspberries to the whipped cream filling and for garnish.  
If you are using the same bowl for each step, be sure to have a sink full of soapy water to clean the bowl!  If you are using the same bowl, have another large one to do the mixing together.
FOR THE ROULADE
8 ounces plain chocolate (broken into pieces)
1/3 cup water
1 Cup sugar
8 eggs (separated)
FOR THE FILLING
500 ml heavy cream (the larger container)
cocoa
METHOD
Preheat oven to 350.
Grease and line a 33-x23cm (half sheet pan) with parchment paper. 
Melt the chocolate with the 1/3 cup water gently in your microwave and then cool slightly. 
Place the sugar and egg yolks into your mixer bowl and whisk on a high speed until light and creamy. Really lots!
Add the cooled chocolate and stir carefully until evenly blended.
In a separate bowl, whisk the egg whites until stiff but not dry.
Carefully fold into the chocolate mixture. 
Turn into the prepared tin and gently level the surface.
Bake in the pre-heated oven for about 25 minutes until firm to the touch. 
Remove the cake from the oven, leave in the pan and place a cooling rack over the top of the cake. 
Allow to cool.  Dust generously with cocoa.  Cover with parchment paper.  Place a large pan, or cutting board or whatever you have that's larger over all.  
Flip the cake onto that board.
It is now resting on that board on the parchment paper.
Peel the parchment paper off of the cake.  Carefully!
Whip the cream until quite firm.
Spread with the whipped cream and roll up like a Swiss roll, starting at the long edge and using the paper to help, rolling carefully but firmly. At this point, you can add some fresh raspberries if you like and if you have them.
Dust with more cocoa
Garnish with more raspberries if you have them.