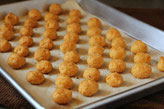 Thoughts about the many uses of parchment paper and a nice recipe for gougeres (small bites of cheesy creampuff)
I'm told that I spoke very early. In complete sentences. I'm sure everyone was most impressed. Mother, no doubt, was pleased. Time passed, and I continued to chat along merrily but showed no sign of hopping up on my hind legs to stroll about. I'm sure she exaggerated when she said that I was nearly two when, forced into action by terrorists in the form of visiting relatives, I finally took to my heels. Mother predicted that I would probably be one of those people who like to "sit around and talk a lot". And so it came to pass. 
I prefer to refer to my lack of spring as efficiency. I tend to avoid all steep and thorny paths. Though I love to cook, I'm not at all keen on the inevitable clean up. I stop short of paper plates when serving up, but paper in the kitchen is my loyal consort. 
Oh it began innocently enough, this relationship with parchment paper. I barely remember how we met. I lined a spring-form pan with a round of it to keep a delicate tart from sticking to the bottom of the pan, a technique found in a fancy cookbook, no doubt. I know that at that time, it was a bit of a specialty item. I had to conduct quite a search to find me some. I tucked it away in a drawer of like-minded products to be at the ready should the need arise to line a terrine. 
As time marched on, I found no good reason to remove that hot pizza stone from the oven. It seemed quite at home there. It wasn't much of a leap to plopping cookies onto parchment paper and sliding them onto the stone with my pizza peel (paddle).  Well, that worked like a charm. No cookie sheet to wash up!  And soon solved was  that pesky problem of pizza dough sticking to the peel when sliding the carefully crafted masterpiece into the oven, resulting in a sad mess not to mention the odd mushroom slice and green pepper bit escaping entirely. Create it right on parchment paper and the whole thing slides gracefully onto the stone. By this time I started to cast about for every possible way this magic paper and I could team up to avoid clean up duty. 
Bacon!  I took out my sheet pan to pop a pound of neatly layered  bacon into the oven (a lovely way to make bacon) when I thought to put a generous furl of parchment paper in the pan first. Genius!  Next came a whole chicken!  A pan of roasted vegetables!   Boules of bread!   I was on a roll! Cream puffs!  Gougeres!  Fricos!  There was no stopping me!  I needed the Uber roll, with a cache of backups in the basement!  
A wily friend perfected fricos with parchment paper.  Sprinkle some loose mounds  of cheese (traditionally grated Parmesan) onto parchment paper. Slide the whole works onto the stone at 400, wait just a few minutes until melted into a lacy filagree. When they come out of the oven, they are quite pliable. Drape them onto small inverted dishes and they will quickly harden to form an edible cups in which to serve, perhaps, a wee salad. 
Thanks to bonappetit.com for this lovely recipe for GOUGERES:
These delicate cheese puffs (Chou pastry with cheese, simply put) always impress. Once you get the hang of the dough, you'll serve them at every opportunity.
Ingredients
SERVINGS: MAKES ABOUT 50
6 tablespoons (¾ stick) unsalted butter, cut into pieces
¾ teaspoon kosher salt
Pinch of nutmeg
1¼ cups all-purpose flour
4 large eggs
6 ounces (1½ cups) grated Comté cheese or Gruyère (I find that Asiago works well)
½ teaspoon freshly ground black pepper
1 large egg 
Preparation
Preheat oven to 400°. Bring butter, salt, nutmeg, and 1 cup water to a boil in a medium saucepan, stirring until butter is melted. Remove from heat, add flour, and stir to combine.
Cook mixture over medium heat, stirring vigorously with a wooden spoon, until mixture pulls away from sides of pan and forms a ball, about 2 minutes. Continue to cook, stirring vigorously, until a dry film forms on bottom and sides of pan and dough is no longer sticky, about 2 minutes longer. Remove pan from heat and let dough cool slightly, about 2 minutes. Mix in whole eggs one at a time, incorporating fully between additions. Mix in cheese and pepper.
Scrape dough into a piping bag fitted with a ½" round tip (alternatively, use a plastic bag with a ½" opening cut diagonally from 1 corner). Pipe 1" rounds about 2" apart onto 2 parchment-lined baking sheets. Whisk egg yolk and 1 tsp. water in a small bowl; brush rounds with egg wash.
Bake gougères until puffed and golden and dry in the center (they should sound hollow when tapped), 20–25 minutes. (I poke them when they come out of the oven, to vent them lest they lose their crisp character). 
Do Ahead: Dough can be made 4 hours ahead. Cover and chill. Gougères can be baked 2 hours ahead; reheat before serving.  (I have been know to freeze them with no ill effect. Pop into a hit oven for a few minutes to refresh). 
Recipe by Mimi Thorisson
Efficient people will often embark fearlessly on exotic kitchen adventures knowing that they have found the means of avoiding the less pleasant aspects of the task.  Toss the parchment paper into the trash, pour a glass of whatever suits your fancy, grab a good book and a plate of gougeres, and toast your trusty kitchen helper, your parchment paper in gratitude for those moments stolen from arduous kitchen tasks!